Brad Pitt Orders 'Straight Pride' Organizers To Cease Using His Name, Image
By Hayden Brooks
June 7, 2019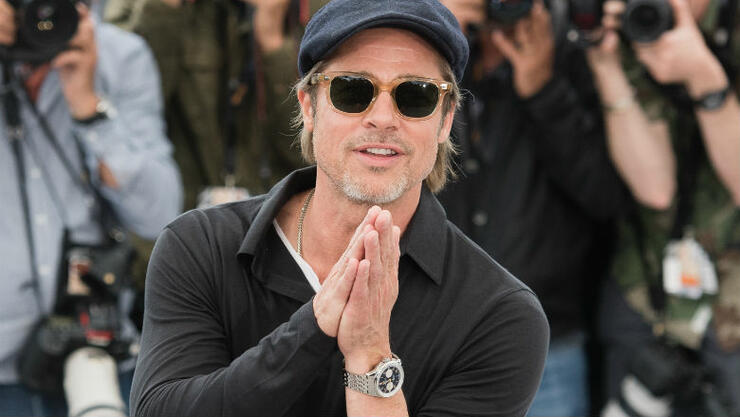 Once Brad Pitt learned that a small group of Boston men were using his name and likeness for their "Straight Pride" parade, the Hollywood titan made it clear that he was not on board with their initiative.
On Thursday (June 6), a source close to The Hollywood Reporter revealed that the 55-year-old star has ordered the organizers to stop using his name and photo. Organizers Super Happy Fun America used a photo of Pitt on their website, calling him its mascot for the campaign. "Congratulations to Mr. Pitt for being the face of this important civil rights movement," the website reads.
Prior to Pitt's move, another A-list actor by the name of Chris Evans spoke out on the parade, calling out organizers over their homophobic agenda for the event, which plans to gather on August 31 to compete with the city's LGBTQ Pride parade. Evans let the group's vice president Mark Sahady know his feelings on the matter via Twitter. "Wow! Cool initiative, fellas!! Just a thought, instead of 'Straight Pride' parade, how about this: The 'desperately trying to bury our own gay thoughts by being homophobic because no one taught us how to access our emotions as children' parade?" he wrote in a message to his 12.2 million followers on the platform. "Whatta ya think? Too on the nose??"
World Pride 2019 is on its way and iHeartPride is celebrating the monumental June celebration with all kinds of coverage. iHeartRadio, Z100 New York and 103.5 KTU are Presenting Media Sponsors for NYC Pride and we're taking the milestone to heart with LGBTQ-focused coverage on everything from entertainment, politics and details on the summer festivities. After all, it does coincide with the 50th anniversary of the Stonewall uprising. Stay tuned for more on World Pride 2019 and keep an eye out for our float in the Big Apple's all accumulating parade on June 30th!
Chat About Brad Pitt Orders 'Straight Pride' Organizers To Cease Using His Name, Image