5 Seconds of Summer Details "Easier" & Reveals New Album Influences
By Nicole Mastrogiannis
June 10, 2019
It was just last year that 5 Seconds of Summer released their latest album Youngblood, but the band is already prepping their next record and have introduced fans to the music with their newest single "Easier."
"Easier" follows 5 Seconds of Summer's collaboration with The Chainsmokers, "Who Do You Love," and is produced by Andrew Watt, Louis Bell and Charlie Puth, and co-written with Ryan Tedder. The band's Luke Hemmings explains of their new song, "Easier' is our first single off our fourth album and it came about cause we, on the last album, worked with Andrew Watt and Ali Tamposi, and we were on tour and Andrew Watt was still writing, and he was writing with Charlie Puth and Ryan Tedder, and we'd never worked with them before. So, they had this idea and they sent it to us and we loved it, and we came in and finished it off and worked with them. It came about through Andrew Watt, really, because we had 'Youngblood' with him, and it just came about really naturally. And we're really happy we got to work with Charlie and Ryan, it was really awesome."
Ashton Irwin says of putting together "Easier" with Watt and Puth, "The work process for 'Easier' was broken up, because everybody was so busy. Those guys wrote the core of the song. And terrific melodists in that room, I mean Charlie and Ryan together writing melodies is crazy, though. We really look up to them for things like that within the songwriting community. So we went in, we finished the song, we layered the 5 Seconds of Summer sonic on it. It's very unusual to get your first single first. That song inspired a lot of the rest of the record."
Hemmings adds, "We wrote a bunch with Ryan Tedder after that, as well. He's got a few songs on it."
"Easier" draws influence from some iconic rock bands like Nine Inch Nails, Depeche Mode and Tears for Fears, just to name a few. In fact, Ashton explains that "a lot of inspiration was drawn from that industrial era, rhythmically." He tells us, "Calum and I have been working on using a lot more electronics when we're putting together the bulk of the rhythm section on this record. And that's something we've always wanted to evolve to. A lot of the bands we look up to like Depeche Mode and Tears for Fears were heavily influencing us at the time of making this record."
With that said, there is a lot more of this influence for fans to look forward to on 5 Seconds of Summer's upcoming fourth album, but the guys have made it their own by incorporating their sound on every song. Hemmings explains of what to expect from the new LP, "I think for this album, it's all those influences that we love like Tears for Fears and The Police and even Nine Inch Nails. But then we understand that we're a pop band, we know that, and we love pop songwriting, and it's always gonna be that from us. It's gonna have that kind of sonic as the musical bed, and then our songwriting and lyrical tone over the top. It's interesting to see how our music changes so quickly, especially in this day and age. We try and not keep up, but almost stay ahead of it, while also keeping those influences that we love. It's a difficult balance to keep."
Irwin adds, "On this record we're discovering truths about our style of songwriting and accepting it fully, which takes you a long time to do as a songwriter and a musician, to develop your own characteristics whilst creating things. And that's something we still strive for and something we're very excited to show our fans, in particular."
As for what to look out for next from 5 Seconds of Summer, the band is particularly excited about their next single. As Ashton tells us, "This next single ... I mean 'Easier' is one of my faves. But single number two is the goods. I love it." The band adds, "It's difficult to say anything without giving it away" and "It's derivative of a lot of my favorites, like The Clash. Rhythmically, it kind of sounds like something from like Combat Rock, which I love."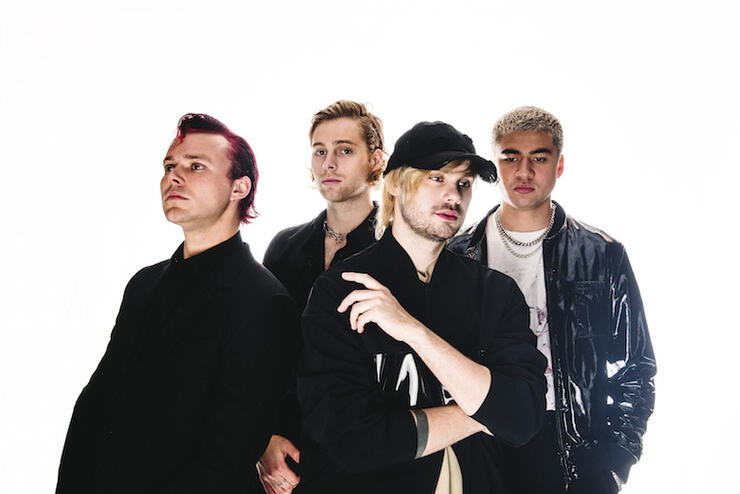 Soon, the guys are heading out on tour with The Chainsmokers. The band's Michael Clifford tells us, "It's going to be awesome. Taking on the tour with The Chainsmokers has been really interesting for us because it's given us perspective on how we're going to change our live show and how we're going to make it different for people who have never seen 5 Seconds of Summer before. Because I think we're so used to playing in front of people who know how we are — that's kind of what we've been doing pretty much for the past couple years. So, I think it's going to be really cool for us to jump back into a creative process of like, how do we engage people who might not know all of our songs? Because, being on there with Chainsmokers, and they're the best guys ever, and I feel like we're all gonna push each other to make the best show. Like I feel like we're panicking, cause we have to make a really good show, and they're panicking, because they have to make a really good show as well."
Ashton echoes, "In this band we're all about just challenging ourselves. We like to throw ourselves in the deep end [and] see what happens. It's important."