Kim Kardashian Shares First Close-Up Photo Of Fourth Child Psalm
By Peyton Blakemore
June 10, 2019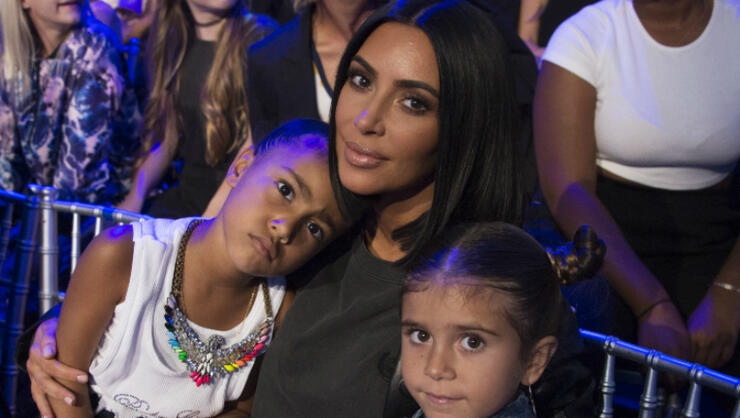 Kim Kardashian wasn't lying — baby Psalm looks exactly like Chicago.
On Monday (June 10), the mom-of-four shared the first close-up photo of her family's newest edition, confirming her previous sentiment that he looks exactly like his older sister Chi. "Psalm Ye," Kim captioned the sweet Instagram picture that showed the one-month-old sleeping.
Kim shared the photo a month to the day that she announced her baby boy's arrival. As fans know, the Keeping Up With the Kardashians star and her husband Kanye West welcomed Psalm on May 9 and revealed the news on Twitter the following day. "He's here and he's perfect!" Kim later added, "He's also Chicago's twin lol I'm sure he will change a lot but now he looks just like her ✨."
Psalm joined siblings North West, 5, Saint West, 3 and Chicago, 15 months.
Kim shared the name of baby Psalm shortly after his birth by sharing a screenshot of a text Kanye sent her on Mother's day, alongside a photo of Psalm in his crib. "Beautiful Mother's Day. With the arrival of our fourth child. We are blessed beyond measure. We have everything we need," read Ye's text, which she captioned, "Psalm West."
Days later a family source revealed the significance of the name, telling People Psalm has a special meaning to the power couple. "Kanye has been going through a spiritual revival lately. Every name has a meaning that is personal between Kanye and Kim and the child," an insider told the entertainment news outlet, adding Ye had other name ideas "weeks ago" before Psalm's arrival. "Psalm is a good reflection of where Kanye and Kim are spiritually," the source said of the name, which means "song" in Hebrew. "Kanye is very involved in choosing the names. He and Kim do exactly what every couple does, where they each bring up names and the other one gives their feedback. It's very traditional that way. Kanye would never just choose a name that Kim doesn't like, or vice versa. The names are things that they mutually agree upon."
"I know that both of them read the Bible regularly now. Kanye loves the Books of Poetry of the Bible: Job, Psalms, Proverbs, Ecclesiastes, Song of Solomon. He reads them over and over," the insider added. "Psalms is the longest book in the Bible, but Kanye believes that there's a lot of wisdom in them [...] He reads the Psalms a lot. He talks about the Psalms he loves. So on that level, the baby name isn't a surprise."
Photo: Getty Images