Ariana Grande Responds To Homophobe Who Tried To Ruin Her Concert
By Paris Close
June 11, 2019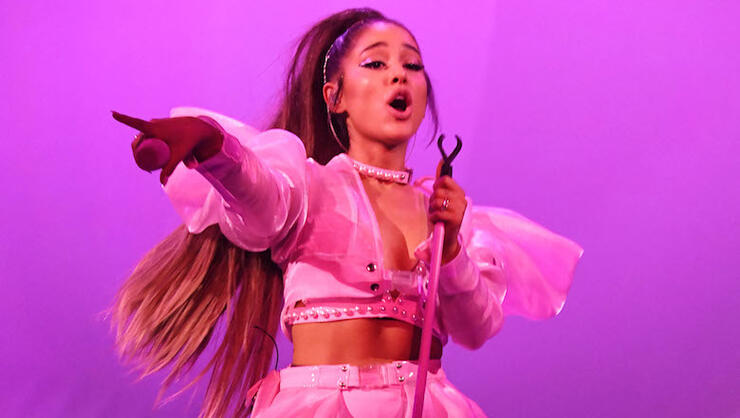 Ariana Grande is speaking out about the man who spewed anti-LGBTQ rhetoric outside her recent show.
The "Break Up With Your Girlfriend, I'm Bored" singer was not very happy when she got word of the homophobic protests happening near the concert venue where she was performing.
"Man... saddened but not surprised by this one bit. i'm so sorry any of my fans had to encounter this. we will do our best to ensure this doesn't happen again," Grande wrote in an apologetic tweet. "Proud of u all for not fighting / engaging violently. never worth it. wishing him peace & a healed heart cause girl yikes."
Apparently, one of her followers tweeted a video of a man in question touting a rainbow sign with the word "Pride" crossed out while using a mic to voice his discriminatory opinions, much to the shock and ire of passerby.
"F**k these dudes outside the Ariana Grande concert spreading homophobia and being f**king stupid and it took EVERYTHING in me not to kick him in the balls with me heels on," the user captioned the clip. (Watch it here.)
In an inspiring act of solidarity, counter-protesters drove out the hate with the best weapon at their disposal: love. Such can be seen in another clip as a crowd assembled and run the man out of the area with a group chant of Steam's anthem "Na Na Hey Hey Kiss Him Goodbye."
Grande would eventually react to the latter clip. "He is highly outnumbered. you are all so celebrated and loved and safe," she tweeted, quipping, "Also, he was doing the be alright choreo in his garage later that night, i promise."
He totally was.
World Pride 2019 is on its way and iHeartPride is celebrating the monumental June celebration with all kinds of coverage. iHeartRadio, Z100 New York and 103.5 KTU are Presenting Media Sponsors for NYC Pride and we're taking the milestone to heart with LGBTQ-focused coverage on everything from entertainment, politics and details on the summer festivities. After all, it does coincide with the 50th anniversary of the Stonewall uprising. Stay tuned for more on World Pride 2019 and keep an eye out for our float in the Big Apple's all accumulating parade on June 30!
Chat About Ariana Grande Responds To Homophobe Who Tried To Ruin Her Concert