The Mysterious Meaning Behind Meghan Markle's New Ring Revealed
By Emily Lee
June 11, 2019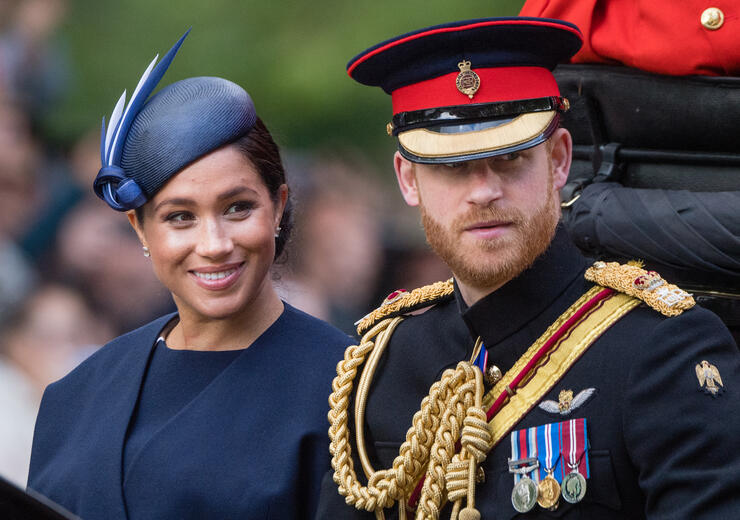 Meghan Markle made her return to public, royal life over the weekend to celebrate Trooping the Colour with her extended family. While it was so nice to see Meghan and Prince Harry on the Buckingham Palace balcony, we missed little Archie!
One thing, though, caught royal watchers' attention during the extravagant event. The Duchess of Sussex was sporting some fancy new bling. Meghan, of course, is known for her excellent taste in fashion and jewelry, but this particular ring has an extra special meaning.
So, what makes Meghan's new ring so special? Well, the diamond eternity band was a gift from Prince Harry in honor of their one year wedding anniversary. Their anniversary also falls about two weeks after their son's birthday, so, chances are it's a sweet nod to little Archie, as well.
Meghan is wearing a third ring on her ring finger - a delicate pave-set band - alongside her engagement and wedding rings. pic.twitter.com/I9I4tvnF8t

— Meghans Mirror (@MeghansMirror) June 8, 2019
Diamond eternity bands are somewhat of a tradition in the royal family. Not only did Harry gift Meghan one after one year of marriage, Prince William gave one to Kate Middleton after they welcomed Prince George back in 2013. How cute is that? Now Meghan and Kate will be able to rock matching diamond bands together. That's sisters-in-law goals right there.
Photo: Getty