Brian May "Wanted To Sound As Good" As Freddie Mercury On Guitar
By Andrew Magnotta @AndrewMagnotta
June 12, 2019
While late-Queen front man Freddie Mercury is a legendary vocalist and front man and lauded for his ability as a pianist, Brian May says the singer was no slouch on the guitar.
Mercury would play guitar live with Queen only occasionally, but May says the singer was actually much more competent a guitarist than fans might think.
"He was very good on the guitar, very unorthodox — all downstrokes," May told Guitar World in a recent interview. "He wrote the riff for 'Ogre Battle' [from Queen II, 1974]. I used to play it with up- and downstrokes, but he was all downstrokes. Imagine how fast his right hand was moving! He had a frenetic energy on the guitar, which came across very well in that song. He played the rhythm on 'Crazy Little Thing Called Love.' I wanted to sound as good as Freddie did on that record, which was damn good."
May suggested that Mercury resisted playing guitar live because he enjoyed being able focus on singing and interacting with the audience.
"He kind of left the guitar after a while and concentrated more on the piano," May continued. "In the latter days, he even left the piano behind. He just wanted to be a performer who ran around and had the freedom to be a front man."
Queen + Adam Lambert are getting ready to embark on their 'Rhapsody' tour of North America in July. Get all the tour dates here.
Photo: Getty Images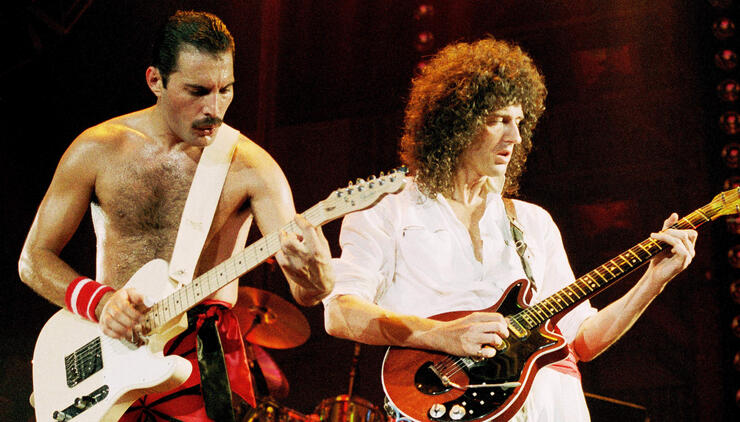 Chat About Brian May "Wanted To Sound As Good" As Freddie Mercury On Guitar