Selena Gomez & Jimmy Fallon Squirm, Shed Tears While Eating Spicy Hot Wings
By James Dinh
June 12, 2019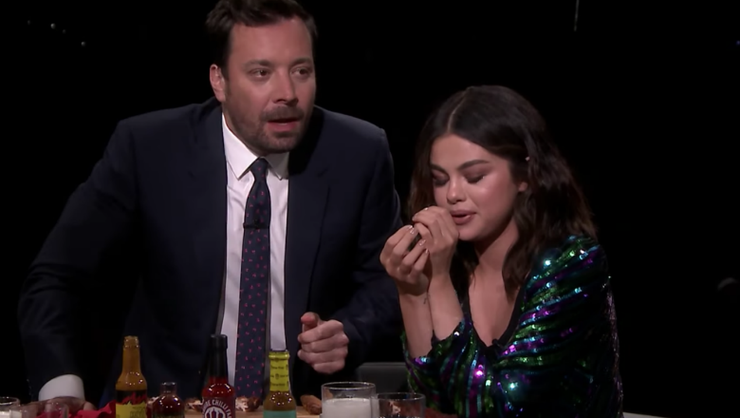 Selena Gomez hasn't engaged in too much promo lately, but the upcoming star of The Dead Don't Die teamed up with Jimmy Fallon for a special live rendition of First We Feast and Complex's signature YouTube series, "Hot Ones," during his Tuesday night (June 11) episode of The Tonight Show.
During the eight-minute crossover segment, host Sean Evans laid out the rules for the stars, explaining that the spicy wings get progressively hotter as the "Hot Ones" interview continues. In the beginning, the pop titan seems to have it under control as the trio speak about a Tonight Show hot sauce skit from many moons ago and Gomez's general allure for Hooters. However, it all changes for the duo when they move onto the third hot sauce in the line-up called Da' Bomb Beyond Insanity.
For longtime viewers of "Hot Wings," it's unsurprising to see that the sit-down interview takes a turn for the worse when the duo start squirming, shedding tears and coughing at the intensity. "I don't remember anything right now. This is horrible," Gomez admits while trying to cool her mouth off with a glass a milk. Despite their reactions, they brave the heat and continue on with one last dab of sauce, prompting Fallon to jump around on-set and mascara to run down Gomez's eyes. "You're evil man. You're evil, evil man. You're sick, evil man. And how are you not crying?" Fallon asks Evans, before reaching for a glass of milk to finish up the last bit of the interview, where the duo must try and guess an interpretation of a famous celebrity. Needless to say, their previous acting chops don't help them in this round. Nothing seems to cool them off.
Click here for more on First We Feast and Complex's signature YouTube series, "Hot Ones."
Photo: YouTube/The Tonight Show Starring Jimmy Fallon