Nicki Minaj Reveals 'Megatron' Release Date & New Photos From Music Video
By Peyton Blakemore
June 13, 2019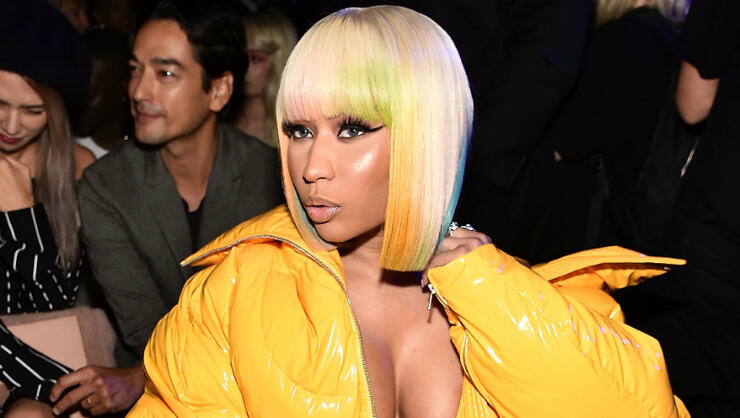 Nicki Minaj is back like she never left.
For the second day in a row, the rapper took to social media to tease her return to the rap game (she took an unexplained weeks-long hiatus, which qualifies as a break so, yes, her new posts qualify as a return — don't @ me) by posting a little more information about her possible next project, "Megatron." While Nicki neither confirmed nor denied if "Megatron" is an album or single, from the looks of her latest Instagram posts on Thursday (June 13), whatever it is is going to be fire!
On Wednesday (June 12), Nicki shared the word "Megatron" across her social media platforms with no explanation. Then on Thursday, she dropped what appeared to be behind-the-scenes pictures from a music video, seemingly for "Megatron," along with a release date for the project. "#Megatron 6|21," she captioned a sexy Instagram shot of her standing in front of a neon green Lamborghini, confirming that the project is coming June 21. She also shared two additional shots that showed her in a body-revealing fit with a male co-star while on set.
Nicki previously rapped about Megatron, a nickname she used to refer to herself, on Future's 2018 track "Transformer."
"Some call me Nicki but some call me Megatron/ I'm stoppin' bags and I don't need a red octagon," she rapped.
As previously reported, the "Good Form" rapper returned to Twitter after weeks of silence on social media with the cryptic "Megatron" message on Wednesday. Nicki's post came two days after Live Nation released the tour dates for what was rumored to be her and Chris Brown's joint Summer Tour. However, her name was not listed on the official announcement.
The lack of Nicki's name caused immediate fan speculation as some said she either dropped out of the tour or while others claimed she was dropped as a headliner by Chris. But on Wednesday, sources set the record straight, telling TMZ, "Nicki never signed on to Chris' tour in any capacity." While the two artists discussed touring together after their recent G-Eazy collab, "talks never materialized into a deal." The insider added, Nicki was the one who "decided the tour wasn't for her, but not because she had beef with Chris. Her reasons were several, she was working on music and a tour would have cut into her studio time, and she just wrapped her European tour and going out on the road again was too much."
Photo: Getty Images
Chat About Nicki Minaj Reveals 'Megatron' Release Date & New Photos From Music Video