Lakers Reportedly Trade for Anthony Davis
By R.J. Johnson - @rickerthewriter
June 16, 2019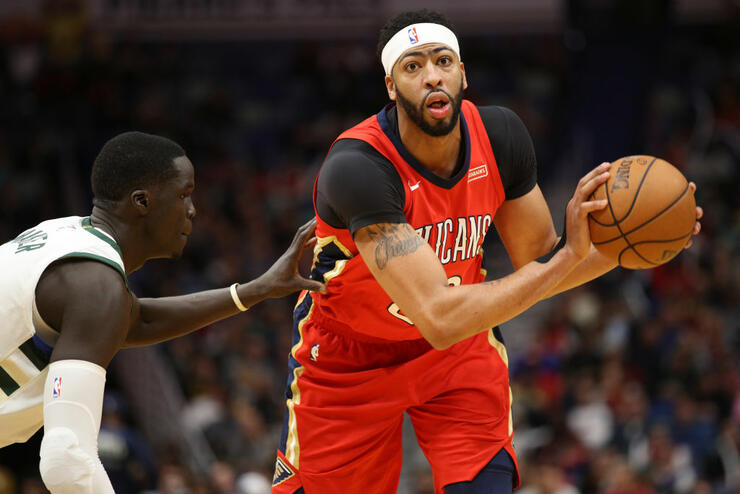 The Los Angeles Lakers have agreed to a trade deal with the New Orleans Pelicans that would send Brandon Ingram, Lonzo Ball, Josh Hart and three first-round picks in exchange for forward-center Anthony Davis, it was reported on Saturday.
Lakers forward LaBron James celebrated the trade in a post on his Instagram account.
"AD on da way!!" James posted on Instagram, accompanying by a picture of himself next to Davis, who is depicted wearing a Laker uniform. "antdavis23. Let's get it bro! Just the beginning.. #LakeShow."
The New Orleans Pelicans are also set to receive a 4th round draft pick in the 2019 NBA draft, and a 2021 first-round choice if the team is in the top eight. Otherwise, the Pelicans receive an unprotected 2022 first-round choice. The teams will swap unprotected first-round choices in 2023. New Orleans is also set to receive an unprotected first-round choice in 2024 if they could defer to 2025.
Davis, 26, has averaged 23.7 points and 10.5 rebounds during his seven- year NBA career, all with New Orleans. He remains under contract through the 2020-21 season, however, Davis does have a player option on the final year of his contract, meaning he could be a free agent after this season.
Former Lakers executive Magic Johnson, who gave up his position as president of basketball operations earlier this year, had nothing but praise for the trade by owner Jeanie Buss and general manager Rob Pelinka.
"Great job by Owner Jeanie Buss bringing Anthony Davis to the Lakers!" Johnson tweeted. "Laker Nation, the Lakers are back in a championship hunt! Congratulations to the entire organization. I know LeBron James has a big smile on his face. I'm loving this!!"
"Laker Nation, you wanted the great Jeanie Buss to step up and bring a championship team back to LA and she's doing just that! And the Lakers still have over $30 million of cap space to spend on free agents starting June 30th.
"Great trade Rob Pelinka! Job well done."
However, not everyone was happy with the Lakers move, including LaVar Ball, the outspoken father of Lonzo Ball who called the trade the "worst move the Lakers ever did in their life."
"They'll never win another championship," LaVar Ball told ESPN. "Guarantee. They're going to regret it."
Photo: Getty Images