Megadeth's Dave Mustaine Reveals He Has Throat Cancer
By Andrew Magnotta @AndrewMagnotta
June 17, 2019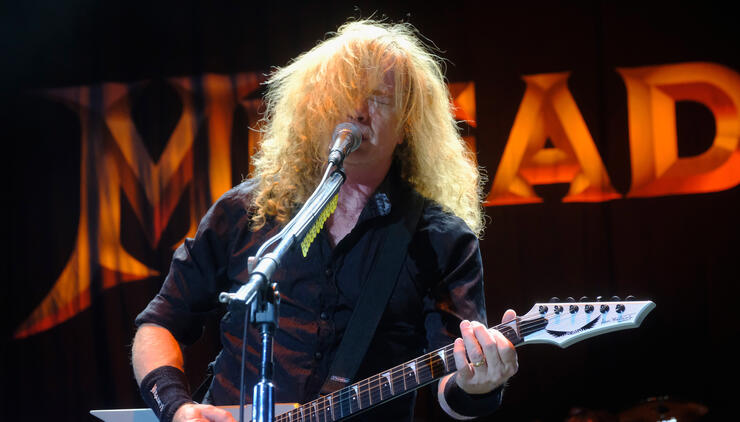 Megadeth front man Dave Mustaine has been diagnosed with throat cancer.
The legendary heavy metal guitarist and songwriter announced the news early Monday via his social media accounts.
"I've been diagnosed with throat cancer," he wrote. "It's clearly something to be respected and faced head on — but I've faced obstacles before. I'm working closely with my doctors, and we've mapped out a treatment plan which they feel has a 90% success rate. Treatment has already begun."
While Mustaine's prognosis is good, Megadeth will have to cancel most of its concerts this year, he added.
Megadeth has shows announced through October 31, including the band's inaugural annual Megacruise, Oct. 13 - 18. Mustaine confirmed the cruise will take place and that the band will be involved "in some form," whether he's able to perform again by then or not.
Fans with tickets to an upcoming show have been asked to check Megadeth.com for updates.
Neither the diagnosis nor Mustaine's treatment will prevent the band from moving forward with its next album, Mustaine added, writing that he and his band mates have been working on the follow-up to their 2016 Grammy-winning album, Dystopia.
"I'm so thankful for my whole team — family, doctors, band members, trainers and more," Mustaine concluded. "I'll keep everyone posted."
The band has yet to announce how many shows will be canceled during Mustaine's treatment.
Photo: Getty Images