Florida Georgia Line Feels Energized By 'Can't Say I Ain't Country Tour'
By Lauryn Snapp
June 18, 2019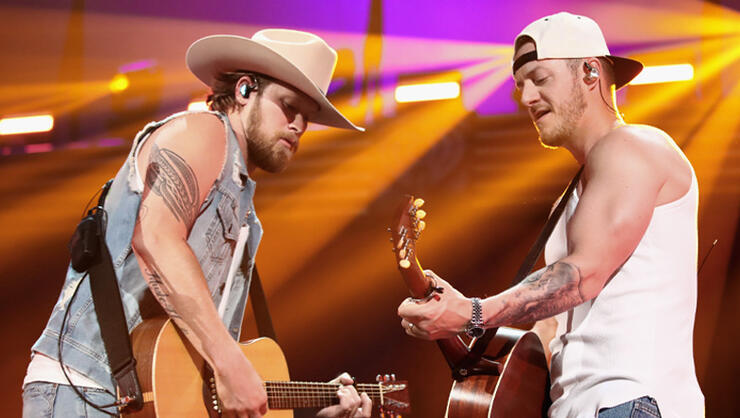 Florida Georgia Line are headlining professionals after kicking off their 5th headliner show, 'Can't Say I Ain't Country Tour.' The duo is now hinting to fans that it might be their best one yet.
"I think, in general, there's a new excitement, not only among BK and myself, but our band, our crew," Tyler Hubbard shared with his record label. "Everybody's itching to get back out on the road. So, we've played a few festivals and it's just been really cool, and I think we've just kind of made us get that much more excited about the kick off of the 'Can't Say I Ain't Country Tour.' Just to have all of our buses, all of our people, the whole deal kind of rolling down the road, we're really excited. It's gonna be an awesome summer."
FGL is growing by one member in August, as Tyler and Hayley will welcome their second child, Luca Reed. It is unclear on how this will effect the duo's touring schedule, however, Brian Kelley has full confidence.
"Watching Tyler be a father, it's beautiful, it's very natural for him," Brain Kelley boasted. "I think it's even focused him and centered him even more and grounded him in a beautiful way. It's just cool to see, as one does have a kid and things change, there is an evolution. There is a process of understanding how that works and life changes and schedules, and especially with our schedule and running different businesses. So just to watch him handle it with grace it's just awesome and it's very inspiring."
Florida Georgia Line is taking out several of their closest friends on their 'Can't Say I Ain't Country Tour,' including Dan + Shay, Morgan Wallen, HARDY and Canaan Smith.
Photo Credit: Getty Images.
Chat About Florida Georgia Line Feels Energized By 'Can't Say I Ain't Country Tour'