Garth Brooks & Blake Shelton Team Up on New Summer Anthem "Dive Bar"
By Taylor Fields
June 18, 2019
Two of your country music favorites have teamed up to bring you a brand new summer anthem as Garth Brooks and Blake Shelton officially shared their collaboration "Dive Bar."
"Dive Bar" is co-written by Brooks, Mitch Rossell and Bryan Kennedy and will appear on his new album FUN. In the chorus, the two song about spending dive at a dive bar: "Gonna spend the weekend/ In the deep end/ The water's fine, y'all should just come on in/ To the deep end/ of a dive bar."
In a recent interview with Billboard, Garth says of how Shelton came to appear on the new song, "I was watching the ACMs this year, and there was one performance that really hit me hard: Blake Shelton's 'God's Country.' I thought, 'I'm feeling something here that's drawing me right into this television.' So I just reached out for him. He was so sweet on the phone. The last thing I said was, 'Hey, man, I don't want to put you on the spot, but we got a song that might be a pretty cool duet.'
He added, "I want to go on record saying I did not think it would sound like this. I didn't know what I was expecting, but I've never heard him sing like that before. … We recorded together and it was fun to watch him. My biggest shock in all of this is I think I know my voice and I think I know his, but there were several times I looked over at Matt, the engineer, when we were mixing it going, 'Is that him or me?'"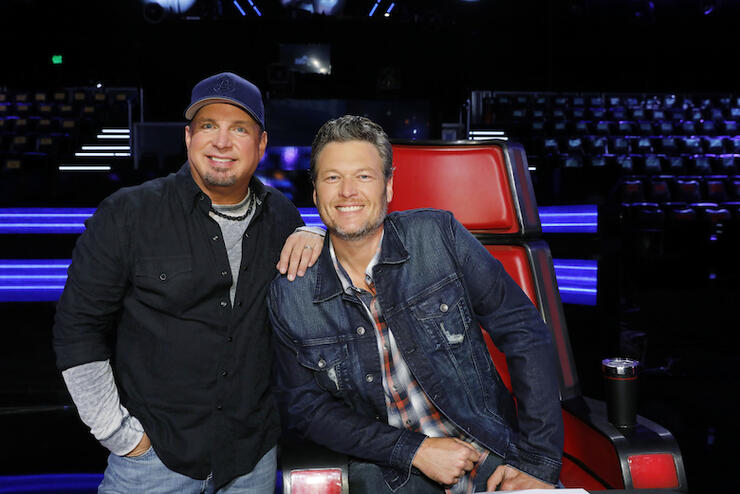 Garth first teased "Dive Bar" to fans during CMA Fest when he tweeted at Blake Shelton, "Hey @BlakeShelton I heard someone found out what we are DIVING into (HINT). I am going to run down to @NancyOdell at #CMAFest to let the dog out (HINT)!! Here we go, pard! love, g." Shelton responded, "Just when I thought I'd seen it all... Then 2019 came along. Holy Moly."
And in the interview with ET's Nancy O'dell, Brooks said of the song, "Blake and I are getting ready to release a duet in the summer. He was fun. He came to the studio and just did a good old summertime anthem. It's called 'Dive Bar' and it just talks about spending your summers in the dive bars across America, and it's going to be fun."
Speaking of FUN, Garth's new album also includes other previously released songs like "All Day Long," "The Road I'm On," "Courage of Love" and "Stronger Than Me."
Listen to Garth Brooks and Blake Shelton's new summer anthem "Dive Bar" above.