Adele Shows Off Slim Figure In Photo With The Spice Girls
By Hayden Brooks
June 20, 2019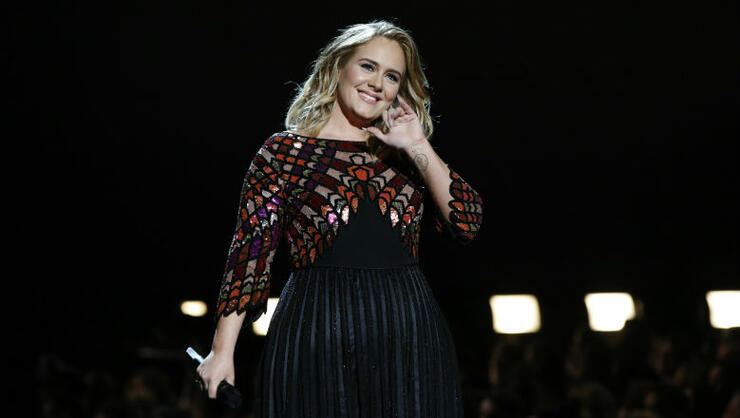 After Adele took to see the Spice Girls' reunion tour over the weekend, folks were surprised to see the 31-year-old titan debut a slim figure following her split from ex-husband, Simon Konecki. Now, it seems The Sun has received word that the pop singer is onto a new health regimen as she navigates the single life.
On Tuesday (June 18), the outlet reported that the singer has lost "more than a stone" (equal to 14 pounds) after working on a new fitness routine involving Pilates class. As per the outlet, she has signed up for Reformer Pilates with friend Ayda Field, an actress who is married to Robbie Williams. Among the other stars who are reportedly fans of the workout include Jennifer Aniston, Kate Winslet and Madonna. In the group photo, which was shared earlier this week, the British singer appears in girl power mode as she stands between Geri Halliwell, Melanie "Mel B" Brown, Emma Bunton and Melanie Chisholm at their Wembley show on Saturday (June 15).
"Adele has been out enjoying herself and she sees that as her priority at the moment, along with being a mum to Angelo," a source revealed to the tabloid. "She has been loving her new workout regime and it really works for her. It's a bonus that she has shifted some weight. Her mates are glad she's letting loose and there's nothing but good feelings towards her. She's got a new lease of life."
During Adele's outing to the comeback show, the 31-year-old singer shared a gallery of photos and videos from the outing, admitting that she got drunk with the four-piece. "Oiii last time I saw the Spice Girls at Wembley was 21 years ago!" she captioned the post. "Tonight with my nearest and dearest i cried, laughed, screamed, danced, reminisced and fell back in love with my 10 year old self. It's no secret how much I love them, how much they inspired me to run for my life and never look back. I finally got to meet Ginger, I got drunk with the girls and quite frankly I can't believe how far I've come. thank you for the madness I get to live, I couldn't have got here without you 5 BRITISH legends! I love you!"
Chat About Adele Shows Off Slim Figure In Photo With The Spice Girls