Here's What Taylor Swift Fans Think Jack Antonoff's Latest Instagram Means
By Taylor Fields
June 20, 2019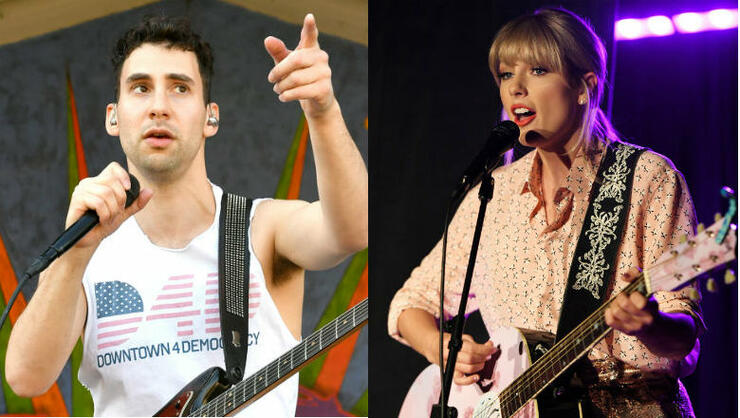 As you know, Taylor Swift is releasing an album called Lover in August. So far, we've heard two songs from the forthcoming record; her lead single "ME!" featuring Panic! at the Disco's Brendon Urie and her latest anthem "You Need To Calm Down." Although fans have a little bit of info about the content on Lover, Jack Antonoff is here to drop a possible hint about one of the songs on the album via his Instagram.
Within a series of photos from over the last month, which he titles "June in film," we can see a picture of Taylor in the studio, but we also see another image of a set of keyboards with a single dollar bill on top of them. Good ol' George Washington. See the photos below.
Why is the dollar significant? Well, fans are speculating that the photo means Taylor, with the help of Jack, wrote a song about her sexual assault case, from which she won exactly one dollar after a lawsuit, counter-suing the man who assaulted her.
Along with the photo of Taylor, Jack Antonoff also posted a photo of a dollar bill on a keyboard in his studio where Taylor was recording her new album. Could Taylor have possibly recorded a song on #Lover about her Mueller lawsuit for a symbolic $1? 👀 pic.twitter.com/kByKMLhlmb

— Taylor Swift Updates (@swiftsupdates) June 19, 2019
My guess is Taylor and Jack have written a song about Taylor's iconic sexual assault case (in which she only asked for 1 symbolic dollar from the man that groped her) and how Taylor feels about it after the fact for her new upcoming Album 'Lover' #TaylorSwift #Lover #YNTCD

— Something About Tay (@SomethinBoutTay) June 20, 2019
Taylor did explain that although the tone of Lover will be "romantic," the album also has some political undertones, so a song about sexual assault might not be too far off.
In an interview with German outlet DPA, Swift expalined, "I definitely think there are political undertones in the new music I made. I'm not planning to stop encouraging young people to vote and to try to get them to talk about what's going on in our country. I think that's one of the most important things I could do."
As you know, Taylor's new music video for her latest single "You Need To Calm Down" is a Pride-themed visual starring many LGBTQ celebrities. Whatever the rest of Taylor Swift's Lover brings, fans are definitely excited about Tay and Jack working together again:
Taylor Swift x Jack Antonoff = Masterpieces

— Juliette 🇫🇷🦋 (@TheDancingSwift) June 19, 2019
jack antonoff and taylor swift being in the studio together. that is it. that is the tweet.

— kayla!! (@loveeisours) June 19, 2019
Chat About Here's What Taylor Swift Fans Think Jack Antonoff's Latest Instagram Means