Halsey Talks Being Committed Twice, Wanting To 'Have A Baby' & More
By Lindsey Smith
June 24, 2019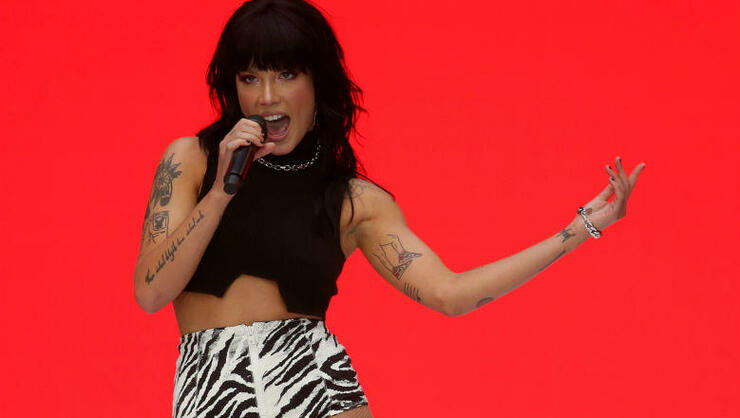 Halsey has never been one to be shy, and that stays true in her recent Rolling Stone interview — the same one where people were up in arms over her armpit stubble. The "Nightmare" singer spoke openly about her childhood, mental illness, and endometriosis.
Halsey has always talked candidly about being bipolar (among other "taboo" subjects people with her platform may shy away from). The singer confessed that she has actually been committed on two occasions and it has unbeknownst to the public. "I've been committed twice since [I became] Halsey, and no one's known about it. But I'm not ashamed of talking about it now," she revealed. "I've said to [my manager], 'Hey, I'm not going to do anything bad right now, but I'm getting to the point where I'm scared that I might, so I need to go figure this out.'"
She continued that she made the decision both times and is able to get in front of it and keep herself and those around her safe.
Something else the "11 Minutes" singer has been vocal about is her endometriosis and how she was told she may never be able to have children. With some lifestyle changes, Halsey found out from her doctor that things were looking up and she has a much better chance of carrying a baby to term. "I was like, 'Wait, what did you just say? Did you just say I can have kids?'" she said. "Never mind. I don't need to put out a third album. I'm just going to have a baby."
Thanks to Halsey for being so honest and continuing the conversations that many may find hard to start.
Halsey is performing at this year's iHeartRadio Music Festival in Las Vegas in September alongside a lineup of superstar artists. Fans across the country can tune in and watch an exclusive live stream of the show via The CW App and CWTV.com. Then, on October 2nd and 3rd, relive all of the epic performances from the weekend during a televised special on The CW Network at 8pm ET/PT. And leading up to the official television special, The CW will also air an hour-long Best Of Special on Sunday, September 29th at 8 p.m. ET/PT.
Photo: Getty Images
Chat About Halsey Talks Being Committed Twice, Wanting To 'Have A Baby' & More