Twitter Hits Back After Billie Eilish Is Objectified For Wearing A Tank Top
By Hayden Brooks
June 24, 2019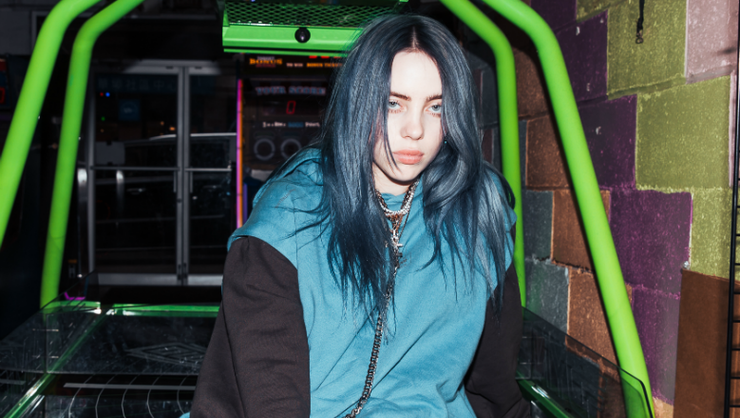 Billie Eilish's oversized wardrobe has become a signature style for the superstar, but there's a reason why the 17-year-old dresses as she does. In her recent video for Calvin Klein, the star said that she dons bigger clothing, so that people can't sexualize or judge her. "Nobody can have an opinion because they haven't seen what's underneath," she explained. "Nobody can be like, 'she's slim-thick,' 'she's not slim-thick,' 'she's got a flat ass,' 'she's got a fat ass.' No one can say any of that because they don't know."
Unfortunately, Eilish's fear recently unraveled on Twitter when one user shared a rare photo of the star in a tight tank top with the caption: "Billie Eilish is THICK." Needless to say, the the post did not please many of her fans, who defended the singer and rationalized just why she wears oversized clothing to begin with. Scroll on below to see some responses to the Eilish controversy.
billie eilish literally said she wears baggy clothes so she doesn't get sexualized and the minute she shows some skin y'all sexualize her? gross https://t.co/JXbCz3fDKf

— 2019 Predictions (@2019_predicts) June 23, 2019
Billie Eilish said: "I mean that's why I wear big, baggy clothes. Nobody can have an opinion because they haven't seen what's underneath."

But society sucks! One word "RESPECT" https://t.co/uC5kvZxkfT

— Pancit! at the disco (@Vincentius226) June 23, 2019
Billie Eilish is a MINOR. 17. Y'all are creepy ass weirdos and need to stop

— willem dahoe (@hummusnchill) June 23, 2019
The fact that Billie Eilish is a child going to great lengths to hide her physical self from people to avoid being sexualized only to be sexualized the moment anyone sees her in something not reminiscent of a TENT makes me want to barehanded snap necks I'm just sayin

— The Gemini Collector (@fullmetalcunt) June 23, 2019
Billie Eilish is performing at this year's Daytime Stage at the iHeartRadio Music Festival in Las Vegas on September 21st alongside a lineup of incredible rising stars. A lineup of superstars are also set to perform on the main stage at T-Mobile Arena throughout the weekend, and fans across the country can tune in and watch an exclusive live stream of the show via The CW App and CWTV.com. Then, on October 2nd and 3rd, relive all of the epic performances from the weekend during a televised special on The CW Network at 8pm ET/PT. And leading up to the official television special, The CW will also air an hour-long Best Of Special on Sunday, September 29th at 8 p.m. ET/PT.
Photo: Rachel Kaplan for iHeartRadio
Chat About Twitter Hits Back After Billie Eilish Is Objectified For Wearing A Tank Top