Meghan Trainor Recalls The Moments Leading Up To Her Record Deal
By Hayden Brooks
June 26, 2019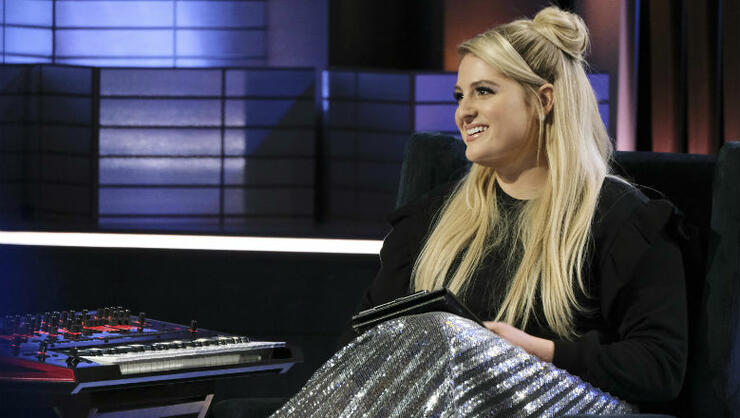 Meghan Trainor was next in line to help an aspiring songwriter workshop a demo alongside the star-studded panel comprising of Ryan Tedder, Ester Dean and Shane McAnally for the latest episode of Songland. After the episode aired on Tuesday night (June 25), the pop singer sat down for the NBC competition's counterpart Songland The Podcast to discuss her own songwriting journey with her single "All About That Bass," being on the show to choose 22-year-old contestant, KOLE," and her demo submission for "Hurt Me,"
"I had 'All About That Bass' written for nine months and nobody picked it up," the 25-year-old star admitted during the broadcast. "And we all liked it. I didn't like it as much as my other songs. I was like, 'I got really good pop songs,' and I remember my publisher, Carla, kept pitching it around and was like, 'Do you have a new artist that could cut this? We understand it's not meant for anyone who's out right now, but maybe someone new that's thicker and confident can pull this off.' Her team ended up getting the track into the hands of Epic Records. As the story goes, her A&R representative, Paul Pontius, was playing it and L.A. Reid walked by and was like, "What is that?" Fast forward to a long-awaited meeting with Reid, where she waited four hours to sit down with the record executive and 50 other folks as she performed the track for the room and eventually scored her record deal.
When it comes to her appearance on the show, Trainor said she was quite excited. "Being on the show was so cool, because I heard about the show like five years before it actually happened," she recalled. "When it finally came out I was like, 'I'm so glad they picked Ester Dean because she's one of the reasons why I'm a songwriter.' My dad would always read articles about her to me. I love the songs she's written in my lifetime. She pretty much raised me."
"It didn't feel like work. It felt like the coolest session I've ever been to," she recalled. "With my three favorite writers right now, I was just so starstruck, too, because Ryan Tedder. I've also always wanted to work with. Never had gotten the chance. That was my first day being in a room with him."
KOLE revealed that she sent a number of songs to Songland, but folks behind the production informed her that they selected "Hurt Me" for Trainor's appearance episode. "I was like, 'I don't remember if anyone told me that it was Meghan Trainor, but in my head it's always been Meghan Trainor because I just felt like this song was such a perfect fit for her.' And production-wise, with some little extra love and TLC, it could really kind of be a bop, in my opinion," she recalled. Trainor admitted that she wanted to give all three contestants and their songs a fair chance, but "Hurt Me" was the undeniable winner. "When I heard KOLE's [song], the show kind of ended for me. I was like, 'Oh, that's the one I'm going to pick.' Like, honestly. I was like, 'Okay, I'm going to give each one a chance, and I'm going to rewrite a lot of stuff and figure it out with the team.' But I knew. I was like, 'It's going to be really tough to beat this one because I also walked back to the trailer and I was singing it, every word.'"
To hear more about "Hurt Me," scroll on below to take a listen to the accompanying episode of the Songland Podcast and stay tuned for new episodes of Songland every Wednesday night at 10 PM ET on NBC!
If you want to be sure you're listening to the podcasts everyone else is checking out, iHeartRadio has you covered. Every Monday, iHeartRadio releases a chart showing the most popular podcasts of the week. Stay up to date on what's trending by checking out the chart here. There's even a chart just for radio podcasts here, featuring all your favorite iHeartRadio personalities like Bobby Bones, Elvis Duran, Steve Harvey and dozens of others.
Chat About Meghan Trainor Recalls The Moments Leading Up To Her Record Deal