Jussie Smollett Googled Himself Over 50 Times After Alleged Attack: Report
By Peyton Blakemore
June 26, 2019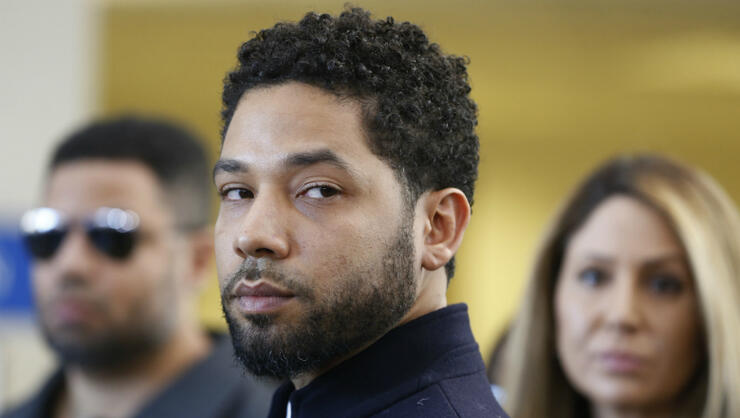 Jussie Smollett may have been paying a lot of attention to media coverage after his alleged attack.
According to CBS Chicago, the Empire star's web browsing history, recovered by Chicago Police during the alleged hoax hate crime investigation, shows that Jussie Googled his name more than 50 times in the days after his alleged attack. The documents, released by authorities on Monday (June 24), show 57 searches, to be exact, for "Jussie Smollett" and "Juss." However, Page Six later reported, "the documents have the heading 'Smollett search,'" so it isn't entirely clear whose search history it is.
The release of Jussie's possible 57 Google searches was one of the many pieces of evidence released by Chicago PD this week. Almost 70 hours of footage related to Jussie Smollett's alleged hoax hate crime investigation was also made public. The footage includes video of police arriving at Jussie's apartment following the alleged attack. In the video, he is shown wearing a noose around his neck, which he claimed his attackers used in the racially motivated attack.
As previously reported, Jussie claimed he was assaulted on January 29 by two men wearing ski masks. He said he had just arrived in Chicago from New York and made a late-night run to a Subway when someone yelled: "Aren't you that f**got 'Empire' n**ga?" He claimed the two attackers, later identified as brothers Abel and Ola Osundairo, then proceeded to jump him, put a rope around his neck and pour bleach on him. Jussie additionally claimed his attackers shouted, "this is MAGA country!"
Jussie was later accused of staging the January hate crime against himself for attention and monetary gain. While he was charged with 16 felony counts of disorderly conduct for the alleged lie, the 37-year-old Empire star was cleared of all charges in connection to the case in March.
However, on Friday (June 21), a judge announced on that a special prosecutor has been appointed to Jussie's case to review the way prosecutors handled it and its dismissal. "If reasonable grounds exist to further prosecute Smollett, in the interest of justice the special prosecutor may take such action," said the judge.
Photo: Getty Images
Chat About Jussie Smollett Googled Himself Over 50 Times After Alleged Attack: Report