Beth Chapman Dead: Dog The Bounty Hunter Reveals Wife's Final Words
By Regina G.
June 27, 2019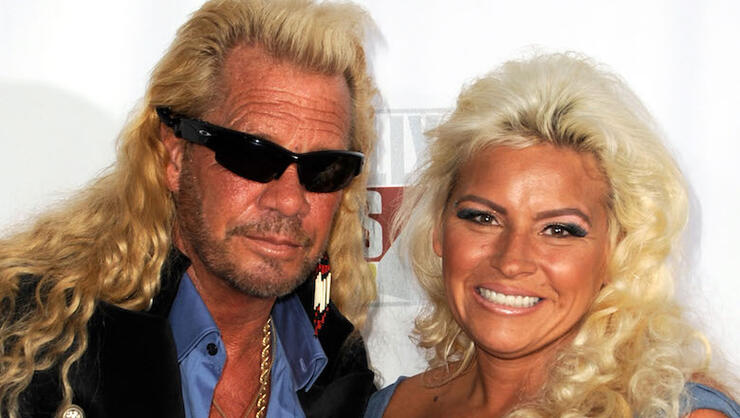 Duane "Dog" Chapman is lamenting the death of his wife Beth Chapman.
After a years-long fight with Stage 2 throat cancer, Beth, of Dog the Bounty Hunter fame, passed away Wednesday morning (June 26) just days after it was reported she'd been placed in a medically-induced coma at Hawaii's Queen's Medical Center. She was 51.
Her husband confirmed the devastating news in a statement via Twitter which read: "It's 5:32 in Hawaii, this is the time she would wake up to go hike Koko Head mountain. Only today, she hiked the stairway to heaven. We all love you, Beth. See you on the other side."
In the hours that transpired since Beth's sudden passing, Duane appeared in front of local Hawaii reporters to deliver his wife's final words and express how he's been handling the loss.
"It's terrible, the most terrible time in someone's life," he told Hawaii News Now alongside his two daughters. "You kind of try to remember that you're celebrating life, but right now we're mourning the death, so it's not good."
Coming to tears, Duane went on to reveal Beth's last words, which were less concerned of her well-being than that of her family.
"When she had an attack I didn't know anything to do but to say 'in Jesus' name' and hold her and when I said 'in Jesus' name' she said, 'Say it again, say it more,'" he tearfully recalled. "And then she told the girls and everybody, with her mouth — she came out of it a couple times — 'I love you' and 'Are you guys all okay? Don't worry,' but she never accepted it."
Beth had been battling the disease since September 2017. Despite undergoing a successful surgery for her condition that same year, the cancer returned and called for a tumor to be removed from her throat last November. Sadly, Beth's condition worsened when an "accumulation of fluid in her lungs" prompted an emergency operation in April 2019.
We're sending our thoughts to the Chapman family at this difficult time.