Eddie Vedder Covered Chris Cornell's 'Seasons' Live For This Special Reason
By Katrina Nattress
July 2, 2019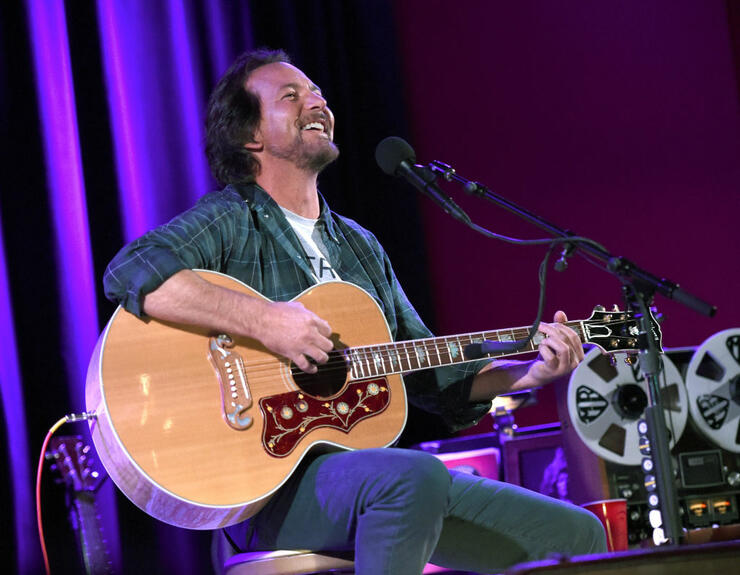 Eddie Vedder's is currently on an extensive tour of Europe, and during a show in Düsseldorf, Germany over the weekend he treated fans to something very special.
As JamBase points out, the singer-songwriter explained that it was the 19th anniversary of Pearl Jam's appearance at Roskilde Festival in Denmark, where nine people were killed after a massive crowd rushed toward the stage; however, the day doesn't just hold bad memories for him. Moments before taking the stage, he had learned his friend Chris Cornell's daughter, Lily, had been born. He then performed a cover of the late Soundgarden frontman's song, "Seasons," which was written for the Singles soundtrack. It was the first time he performed the cover live.
A fan caught the performance on camera. Watch the footage below.
Last month, Vedder had a surreal experience when he reunited with a Dutch woman he had met 27 years prior while Pearl Jam was touring Europe. He had looked for her at a show in Amsterdam, and after the local paper sought her out, his manager coordinated tickets and backstage passes for her and her husband to his show in Brussels.
"You still have the same smile," he said when they met backstage.
Photo: Getty Images
Chat About Eddie Vedder Covered Chris Cornell's 'Seasons' Live For This Special Reason