Demi Lovato Destroys Troll Who Told Her to Lose Weight
By Taylor Fields
July 3, 2019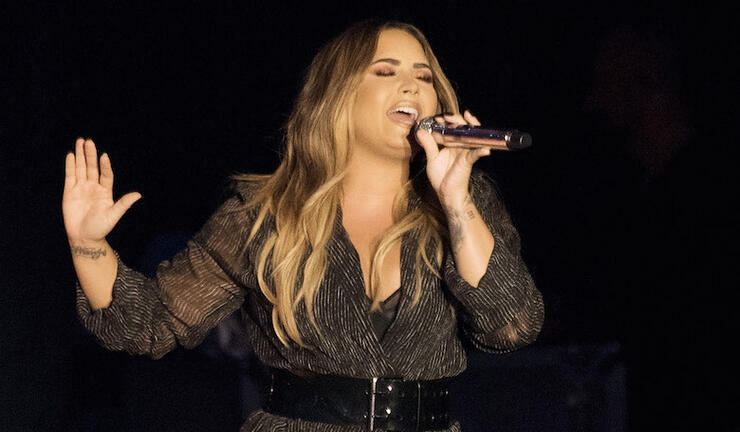 Demi Lovato is not here for ANYONE who tries to body shame her — or any online trolls for that matter. And the pop star had the perfect response to one troll in particular who tried to do just that on Instagram.
The troll, who went by the Instagram handle @Selenuer (a Selena Gomez fan account of all fan accounts and who is now "unavailable"), had posted a paparazzi photo of Demi walking out of a gym after a workout and captioned it, "hey demi dm me so we can discuss a diet plan for you," and even TAGGED Lovato so she would be sure to see it.
Well, Demi saw it, and destroyed this person with the following sentiment: "I actually am choosing not to diet and fall back into unhealthy behaviors at the risk of losing my sanity or mental health but thank you for the offer! Super sweet." And she finished her comment with a pink emoji heart to seal the deal.
You go, girl.
Demi has been open and transparent about her struggles with eating disorders, as well as how her mother's bulimia battle affected her while growing up. In 2016, she told American Way magazine, "Even though I was two or three-years-old, being around somebody who was 80 pounds and had an active eating disorder... it's hard not to grow up like that. My grandma had bulimia, my mum had it, I had it, and hopefully my kids won't have it, but it's kind of like an addiction. It's hereditary."
Meanwhile, Lovato seems to be doing well following her overdose and time spent in rehab over the last year. In fact, back in May, she shared a gorgeous bikini shot following a jui jitsu practice, along with a heartfelt caption about feeling "awesome" and "empowered." She wrote:
"Idk what to caption this.. reality is I'm sitting at the gym post jiu jitsu feeling high on life and drinking my post workout shake. I'm sweaty and not looking this glamorous right now but fuck I feel awesome and posting this feels empowering because I like this pic where I feel sexy and I can also defend myself from anyone that ever tries to attack me. Any size, any shape, any gender. I have security but in the moments I'm alone I feel confident (no pun intended) that I can hold my own against an attacker and hope everyone finds something they become as passionate about as I feel about jiu jitsu."
Chat About Demi Lovato Destroys Troll Who Told Her to Lose Weight