Another Large Earthquake Hits Southern California
By Bill Galluccio
July 5, 2019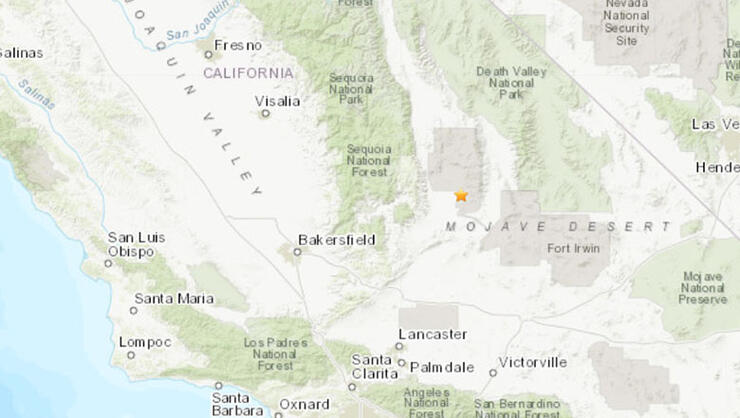 Another major earthquake struck in Southern California on Friday (July 5) evening. The United States Geological Survey reported the quake had a preliminary magnitude of 6.9, but later upgraded it to a 7.1. It was centered about ten miles northeast of Ridgecrest, California. People reported the shaking lasted about 40 seconds.
Caltech seismologist Dr. Lucy Jones says that there could be more aftershocks and described the sequence of quakes as "energetic." She says the earthquakes are moving northwest and away from densely populated areas.
There are reports of damage to the docks at Channel Islands National Park and buildings in San Bernardino County have reported having foundation cracks. Six Flags Magic Mountain in Santa Clarita is going to stay closed while workers perform an extensive safety check of all the rides.
Around 2,000 customers in the Ridgecrest area are without power.
The earthquake shook Dodger Stadium during a game between the Dodgers and Padres. The announcers felt the broadcast booth shake, and could not believe the players on the field were able to play through the shaking.
A visitor at the Griffith Observatory in Los Angeles happened to be standing near the seismograph as the earthquake happened.
A resident who lives near Ridgecrest shared photos of the damage caused by the earthquake.
There have been two large aftershocks that were felt in Los Angeles.
The shallow quake was felt in Las Vegas caused an NBA Summer League game to be suspended. Since Thursday's quake there have been more than 150 aftershocks, including a 5.4 magnitude one Friday morning.
The quake comes just two days after a 6.4 magnitude quake struck in the same area.
Photo: USGS
Chat About Another Large Earthquake Hits Southern California