Thom Yorke Likes Billie Eilish Because 'Nobody's Telling Her What To Do'
By Katrina Nattress
July 7, 2019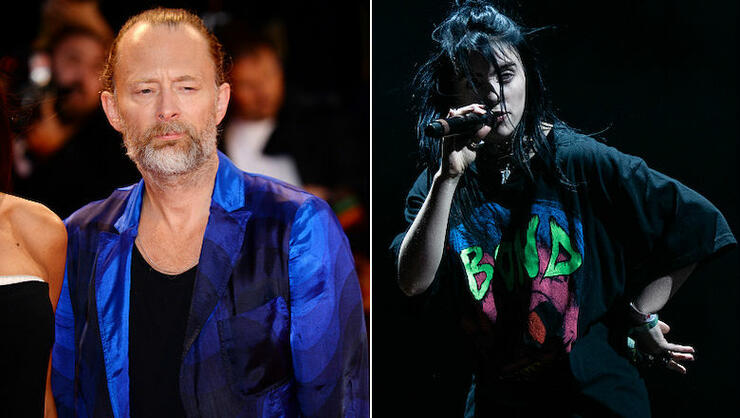 Thom Yorke is the latest rockstar to praise Billie Eilish. During an interview with The Sunday Times, the Radiohead frontman revealed that he took his daughter to see the 17-year-old's live show, and despite an awkward run-in with Sam Smith, or as Yorke calls him, "the guy who did the Bond film we didn't do," he described the concert as "a fine moment."
"That was a fine moment," he said. "We sat down and whats-his-name, the guy who did the Bond film we didn't do? He stands behind us and I'm sitting with my daughter, her friends, and my girlfriend, when suddenly everyone goes 'Saaaam!' I'm, like, 'Aaaaargh!'"
"I like Billie Eilish," he continued. "She's doing her own thing. Nobody's telling her what to do."
Radiohead submitted a song for the 2015 James Bond film Spectre, but it was passed up for Smith's "Writing's On The Wall."
Yorke's comments come just days after Elton John gushed over the anti-pop star's talents.
"She is one for the most talented young ladies I've ever heard. Her album was amazing. She's come a long way very quickly. She's an incredible word of mouth artist," he said in an interview. "All the tracks we've played have been so different, and that's what I love about her. There's is no box to put you in. There are no rules. I can't wait to see her live because she has something very special going on. Talent like hers doesn't come along very often."
Billie Eilish is performing at this year's Daytime Stage at the iHeartRadio Music Festival in Las Vegas on September 21st alongside a lineup of incredible rising stars. A lineup of superstars are also set to perform on the main stage at T-Mobile Arena throughout the weekend, and fans across the country can tune in and watch an exclusive live stream of the show via The CW App and CWTV.com. Then, on October 2nd and 3rd, relive all of the epic performances from the weekend during a televised special on The CW Network at 8pm ET/PT. And leading up to the official television special, The CW will also air an hour-long Best Of Special on Sunday, September 29th at 8 p.m. ET/PT.
Photo: Getty Images
Chat About Thom Yorke Likes Billie Eilish Because 'Nobody's Telling Her What To Do'