Kim Cattrall Confirms She'll 'Never' Return To 'Sex And The City'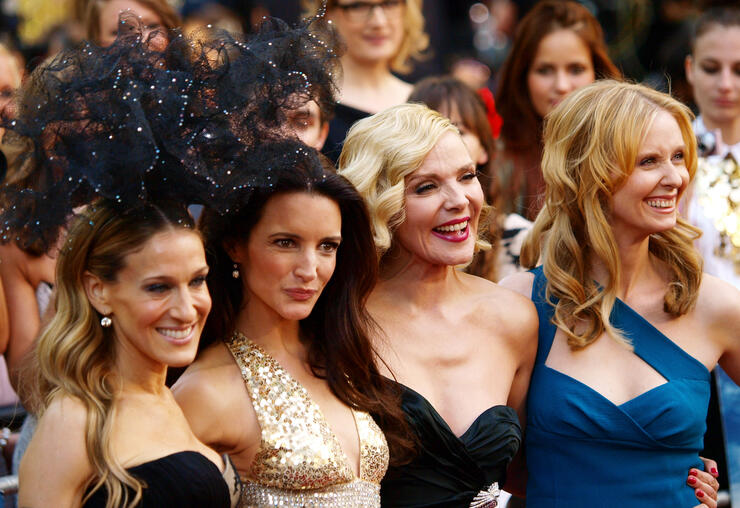 Kim Cattrall has confirmed that she's definitely done with Sex and the City. The 62-year-old actress portrayed Samantha Jones on the beloved HBO dramedy from 1998 to 2004, as well as two feature films based on the long running series. While fans (and even Cattrall's co-stars) have expressed interest in a third movie, she's putting the kibosh on that possibility.
"Never. It's a no from me," Cattrall told The Daily Mail when asked about returning to the franchise. "You learn lessons in life and my lesson is to do work with good people and try and make it fun."
Cattrall's latest comments continue to fuel speculation about bad blood behind the scenes of Sex and the City. Though Cattrall has said there was "nothing concrete" about a potential third movie, her claims were contradicted on journalist James Andrew Miller's podcast Origins. Miller reported that Cattrall didn't think the script offered much for her character. "People close to Kim believe that the script didn't have a lot to offer the character of Samantha," he said. "They point to the fact that it calls for [Carrie's husband] Mr. Big to die of a heart attack in the shower, relatively early on in the film, making the remainder of the movie more about how Carrie recovers from Big's death than about the relationship between the four women."
Sarah Jessica Parker, who starred as Carrie Bradshaw on SATC, called the script "beautiful, funny, heartbreaking, joyful, very relatable." Not long after Parker expressed her disappointment that film would not get made, Cattrall spoke with Piers Morgan and once again denied the existence of a completed SATC 3 script. She even went on to discuss her personal relationship with Parker during the interview.
"This is really where I take to task the people from Sex and the City, specifically Sarah Jessica Parker in that I think she could have been nicer," Cattrall told Morgan. "I really think she could have been nicer. I don't know what her issue is, I never have."
"The answer was always no and a respectful, firm, no," she continued. "I never asked for any money, I never asked for any projects, to be thought of as some kind of diva is absolutely ridiculous. This isn't about more money, this is not about more scenes, it's not about any of those things. This is about a clear decision, an empowered decision in my life to end one chapter and start another."
Though Cattrall alleges she and Parker have been feuding since their days on the SATC set, Parker denies those allegations. "I'd just like to remind everybody that there is no catfight," Parker told Vulture. "I have never uttered an unkind, unsupportive, unfriendly word, so I would love to redefine it... I've always held Kim's work in high regard and always appreciative of her contributions. If she chooses not to do the third movie, there's not a lot I can do to change her mind and we must respect it. That's the only thing I've ever said about it, you know?"
We'll likely never know what's really going down between these two talented actresses, but one thing's for sure: don't expect any Sex and the City 3 announcements any time soon.
Photo: Getty
Chat About Kim Cattrall Confirms She'll 'Never' Return To 'Sex And The City'