20-Foot Python in Florida Nears World Record After Topping 200 Pounds
By R.J. Johnson - @rickerthewriter
July 16, 2019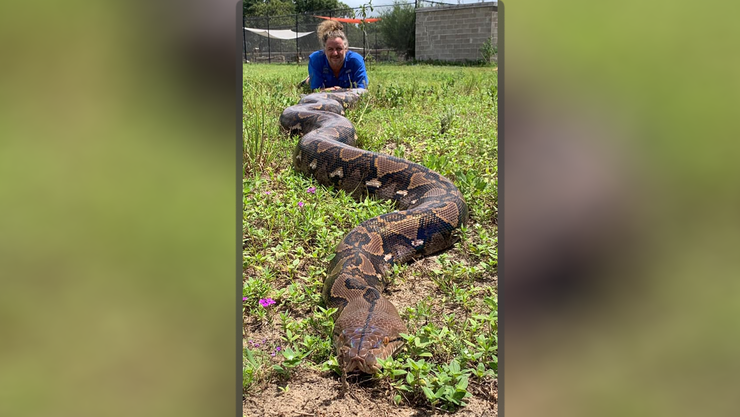 Ophidiophobics beware! A Florida python is on the verge of smashing a world-record size according to one zoo official where the reptile lives.
The 6-year-old 200-pound reticulated python at the Emerald Coast Zoo in Crestview, Florida, is slithering toward a new world-record, zoo co-owner Rick de Ridder told the Northwest Florida Daily News.
"She's probably the longest snake in Florida," de Ridder said. He added that he believes Ginormica could reach the world-record length of 25 feet a few years from now.
If you're wondering what Ginormica's secret is for her impressive weight gain, de Ridder says the reticulated python is fed frozen or thawed goats and pigs every two weeks.
"We feed her 20-to-30-pound animals every two weeks," he said. "A snake this size, you would never want to teach 'em how to kill anything."
If you're morbidly curious and want to see Ginormica for yourself, the Emerald Coast zoo will be featuring the undulating serpent on July 20 for National Snake Day (because apparently everything in existence deserves a day... even snakes).
"National snake day is coming up and we're celebrating it on July 20th. Come out to Emerald Coast Zoo and meet Rick the Reptile Guy's python, 'Ginomica', measuring over 20 feet and over 200 lbs!!!" the zoo wrote in a Facebook post showing off Ginormica's impressive dimensions. 🐍
"Ssssssome of his other ssssssnakes will be there to hold and take photos with too, sssssssso come join in the fun!" the zoo added. 😃
Don't worry - the massive pythons native to Southeast Asia only have an expected lifespan of 75 years or so. Reticulated pythons like Ginormica are known as the world's longest snake with some mature adults possibly growing up to 31.5 feet long, according to Wikipedia.
The current record-holder for the longest snake held in capitivity is currently held by a 25-foot 2-inch reticulated python named Medusa, which lives in Kansas City, Mo.
Photo: Emerald Coast Zoo