Luke Combs Becomes The Newest Grand Ole Opry Member
By Blake Taylor
July 17, 2019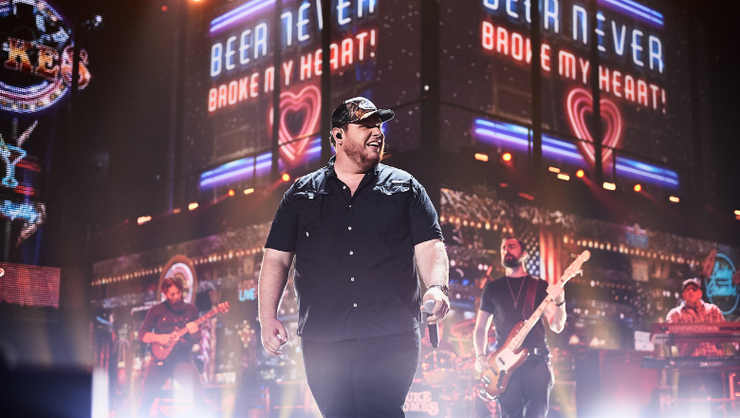 Last night, Tuesday (July 16), was a monumental moment for country artist, Luke Combs. The "She Got The Best Of Me" singer officially became the newest member of the historic Grand Ole Opry.
Early in Combs' life he found inspiration from artists, Vince Gill and Joe Diffie. Now, years later, both Gill and Diffie join Combs on stage to induct him into the Opry. Talk about a full circle moment!
"Here I am on stage with people I grew up listening to and people who have shaped me as an artist," Combs shares on stage. "I just want to say thank you to you guys, thank you to the Grand Ole Opry, and thank you to the fans-without you all, there is no country music, there is no Grand Ole Opry. Thank you so much for everything you guys do for making this possible for guys like us on this stage."
Combs has had a wildly successful few years with his country music career. Just within the last two years he's already had five consecutive No. 1 singles including "Hurricane," "When It Rains It Pours," "One Number Away." "She Got The Best Of Me," and his latest, "Beautiful Crazy." Further, he's managed to sell out massive venues all over the country for his "Beer Never Broke My Heart Tour" while also bringing in a few awards, one of them being Country Artist Of The Year at the 2019 iHeart Radio Music awards. Combs has simply been unstoppable.
To conclude, Combs shares, "I will never forget tonight. Thank you everyone for being a part of it. Everyone who has meant something in my life is here tonight. I want them all to know that I love 'em and I can't wait to sing one more song for you guys tonight- my first song as a member of the Grand Ole Opry." The new Opry member then dives into a special solo performance of his song, "This One's For You."
Big congrats to the Grand Ole' Opry's newest member, Luke Combs!
Chat About Luke Combs Becomes The Newest Grand Ole Opry Member