X Ambassadors Partner With Brewery For Special American Pale Ale
By Katrina Nattress
July 17, 2019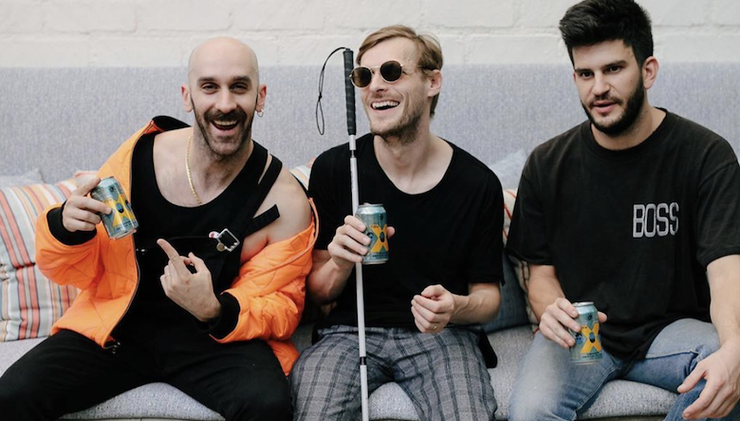 X Ambassadors have truly made it — they've now been immortalized as a beer.
The band announced its partnership with Magic Hat Brewing through a funny Instagram post. "Oh, hello. We're on a beer can now," they wrote alongside a photo of the trio enthusiastically holding beer cans. "Excited to announce the release of the 'X' beer with @magichatbrewing— these guys have created something insanely delicious; drawing flavors from our individual strands of hair, flecks of skin, and saliva. Jk they absolutely did NOT do that. But no kidding about the delicious part... it really truly is. Search on the Magic Hat website to see where you can get some 🍺🍻 (and drink responsibly, duh)"
The brewery's website describes the beer a little better than the band does. "When the X Ambassadors dropped in for a beer before one of their shows, we were stoked. They're international rock stars! Yet they're grounded, humble dudes who support the local communities that serve them," the website's description reads. "So, while kicking it over a cold one we wondered if there was a way to capture this spirit together in a beer. There was, and that beer is Magic Hat X, an American Pale Ale that exemplifies the X Ambassadors' music and spirit."
"Magic Hat X features lemon and melon hop notes that dominate over a light resinous character and smooth finish," it continues. "It's crushable anywhere, whether you've got floor seats at a show, a blanket laid out at a festival or just kicking your feet up while spinning vinyl. Cheers to you and stay humble."
X Ambassadors will be touring on their recently released album ORION this fall. Check out a full list of tour dates here and the beer announcement below.
Chat About X Ambassadors Partner With Brewery For Special American Pale Ale