Ricky Martin, Bad Bunny & More Join Protests Against Puerto Rico's Governor
By Regina Star
July 18, 2019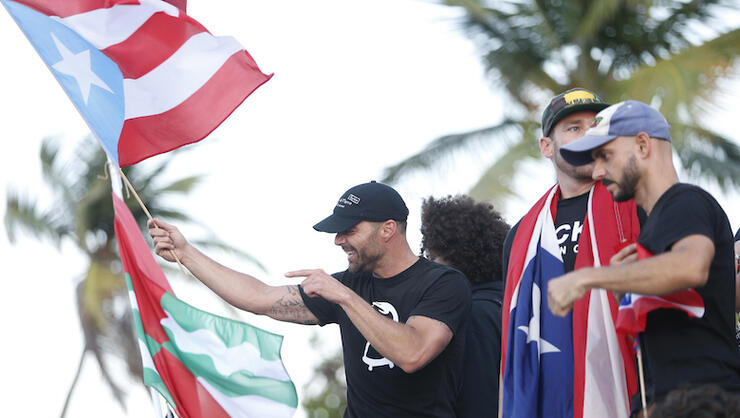 Ricky Martin, Bad Bunny, Lin-Manuel Miranda and more Puerto Rican stars are standing in solidarity with thousands of civilians who are protesting against Governor Ricardo Rosselló.
The political crisis sparked over the weekend after a 889-page private group chat between Rosselló and several members of his administration — during which the parties exchanged "derisive messages" about "foes and allies alike" — was leaked, inciting protesters to descend on Rosselló's mansion in San Juan, demanding his resignation.
Among the most vocal voices to throw their support behind the movement is pop star Martin, who was reportedly targeted in the confidential messages for his sexuality. The San Juan native denounced the insults, and has since been sharing footage from the protests on social media.
"We're tired of the cynicism. They put down women, they put down the LGBT community, people with disabilities … it is insane. We are tired, we can't take it anymore," Martin says in a clip from the crowd, shared Thursday (July 18). "He's going to listen to us. … Puerto Rico has suffered enough and it's pretty much barbaric what he's doing."
Hamilton actor Miranda, who is also mentioned in the chats, condemned the governor and his cabinet on Twitter for claiming credit for helping to raise $15 million for Hurricane Maria recovery efforts.
Trap star Bunny, who was born and still resides in Puerto Rico, also took action when he postponed his European tour to fly back home and join protests requesting Rosselló step down as well. He later addressed his stance on the unrest in a 10-minute video on Instagram Live: "This is about respect, to all Puerto Ricans. I live in Puerto Rico, my family lives in Puerto Rico, my friends. What happens in Puerto Rico matters to me."
Chat About Ricky Martin, Bad Bunny & More Join Protests Against Puerto Rico's Governor