Mahershala Ali Will Be The Next 'Blade' In Marvel's New Reboot
By Paris Close
July 21, 2019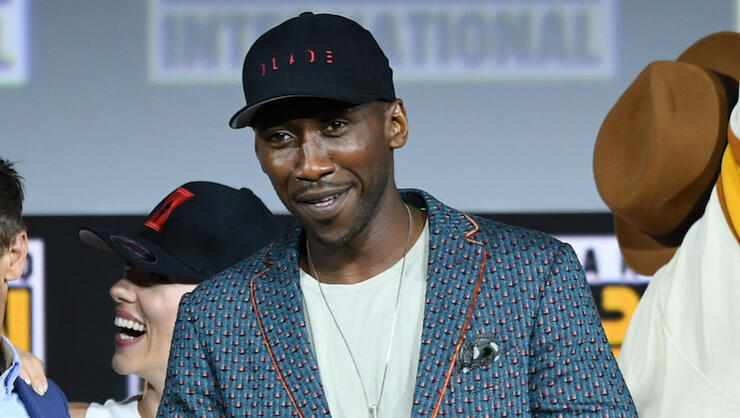 Mahershala Ali will be wearing the cape in Marvel's new Blade reboot!
It was just announced on Saturday (July 20) that Ali, of Green Book and Moonlight fame, would be starring as the titular daywalker at Comic-Con International in San Diego. The two-time Oscar winner will be joining the Marvel Cinematic Universe as the half-human, half-vampire superhero, popularly portrayed by Wesley Snipes from the late-'90s through the early'-00s.
While not part of the MCU, Blade has been lauded as Marvel's first film success, and for its time, developed the first of what would be the studio's cult-followed movies to come.
Ali was on hand for the announcement during the Hall H panel, where the 45-year-old proudly sported his Blade cap to celebrate the news. (Watch the moment below.)
Blade was the last of Marvel's Phase 4 films unveiled at the convention, along with Thor: Love and Thunder, Loki, Eternals, WandaVision, Black Widow, and others.
Marvel chief Kevin Feige explained the casting choice during an interview with Rotten Tomatoes.
"We have, for years, wanted to find a new way into Blade, we love that character. We love that world," Feige said. "Now with Dr. Strange and the supernatural elements coming into the MCU, it felt like we could definitely start exploring that."
"Mahershala wanted to come in and meet with us. And when Mahershala Ali wants to meet, you take the meeting," he added. "And I think he had just come off his second Academy Award. And we were talking very polite, and he was talking about what a fan he is, and then he just cut right to it, and was like, 'Blade.' And we were like, 'yes.'"
Photo: Getty Images