Walk The Moon Share Behind The Scenes Pics From Apollo 11 50th Anniversary
By Katrina Nattress
July 22, 2019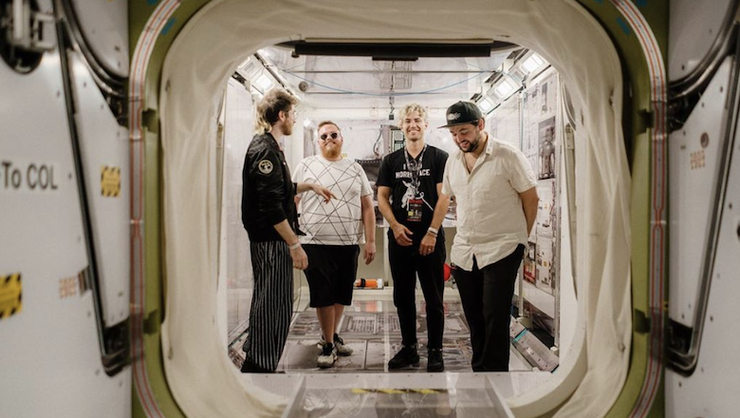 On Saturday (July 20), the country celebrated the 50th anniversary of Apollo 11's historic lunar landing, and what's more fitting than having a band named "Walk The Moon" perform at the party?
The indie rockers played at NASA's Johnson Space Center in Houston to commemorate the occasion, and on Monday (July 22) shared some behind the scenes photos of their time at the space center on Instagram, including a pretty cool shot of singer Nicholas Petricca seemingly floating while typing on a laptop.
"UNIVERSE SIZED thanks to @nasa @nasajohnson @spacecenterhou for an unforgettable weekend," the band captioned the gallery of photos. "we were honored to be part of the 50th anniversary celebration. let's do the next show on the moon, cool?"
Check out the mesmerizing photos below.
While Walk The Moon was rocking out in Houston, Washington, D.C.'s Kennedy Center hosted its own event to honor the lunar landing, and it involved David Bowie.
The late glam rock icon's breakthrough single "Space Oddity" also turned 50 this month, and his estate celebrated the occasion with a new music video including never before seen live footage, which fittingly premiered at the Capitol's Apollo 11 celebration. The new video isn't the only tribute to the Thin White Duke's single. Mattel also released a limited-edition David Bowie Barbie doll, dressed head to toe like Ziggy Stardust.
Photo: Instagram
Chat About Walk The Moon Share Behind The Scenes Pics From Apollo 11 50th Anniversary