Woman Charged $100 For Dropping Some Skittles In An Uber
By Dave Basner
July 22, 2019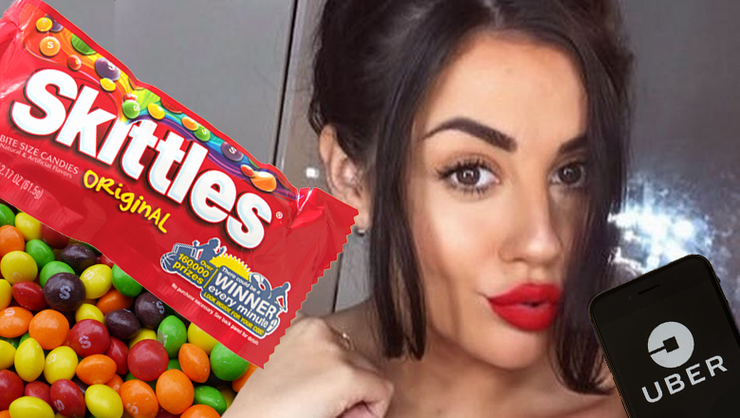 Uber drivers have to deal with some unpleasant messes in their cars - from drunk passengers getting sick to clumsy passengers spilling drinks, but the ride-share company protects its employees by allowing them to pass on the cost of cleaning fees to customers who dirtied the drivers' cars. The policy makes sense for especially filthy people, but one woman was just hit with a $100 charge because her boyfriend knocked a bag of Skittles out of her hand as they rode in the back of a car, causing some to spill out.
Her name is Lydia Williams and she tweeted the message Uber sent her, as well as the photo Uber says shows the mess she left. In the pic, there are about 20 Skittles on the floor of the car, and in the message Uber says they are charging Williams "due to the severity of the incident." Lydia, who is from the UK, wrote in the tweet, "Can't believe I've had an £80 charge from Uber for 'the severity' of some spilt Skittles."
Since Uber was essentially charging her $5 a Skittle for the clean-up, Lydia pushed back and asked to see a copy of the receipt for the cleaning services but Uber refused, stating that they can't give it out since it may contain private information about the driver. They went on to say that they reviewed the charge and they stand behind it.
The 24-year-old Lydia said she was very respectful to her driver and even claims to have bought him a meal and a drink during the ride home, but some people are questioning why she didn't pick up the candy that fell.
Uber also responded to media inquiries about the incident. A spokesperson explained, "The Uber app is based on mutual respect for both riders and drivers. For licensed drivers who use the app, their vehicles are their place of work and any damage or mess can mean they are unable to continue working. When a driver claims a cleaning fee, they are required to provide us with the details of the trip and the incident as well as photographic evidence and a validated cleaning receipt."
Skittles responded as well, tweeting out, "It's always polite to leave your driver a few Skittle for their next trip!"
It's always polite to leave your driver a few Skittles for their next trip!

— Skittles (@Skittles) July 22, 2019
Lydia tweeted back, asking if that meant she could get a few sent her way for her next trip and the candy company said it does and asked her to DM them. At least she'll receive something for that $100.
Photo: Getty Images, Twitter/LydwillX