Aerosmith Producer Tries To Settle Band Argument Over "Walk This Way" Beat
By Andrew Magnotta @AndrewMagnotta
July 23, 2019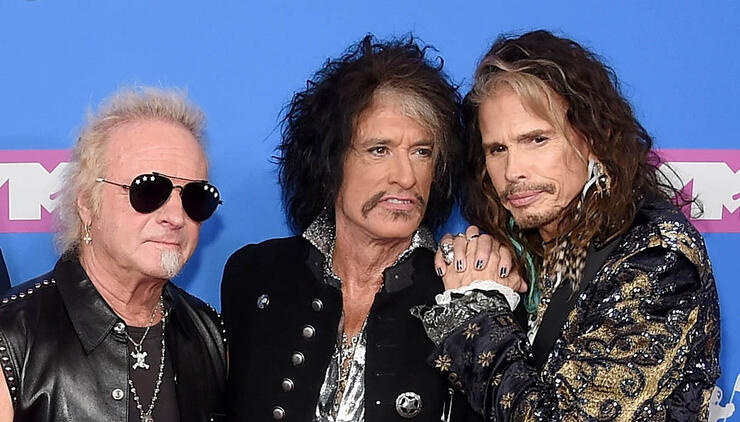 Aerosmith front man Steven Tyler and drummer Joey Kramer have for decades argued about who came up with the beat for "Walk This Way."
Beyond making "Walk This Way" a radio hit in 1975 and a rock and roll standard, the beat also transcended genre, becoming a favorite of early hip hop artists. The song's popularity with MC's eventually led to Aerosmith's career-revitalizing 1986 collaboration with Run DMC.
Tyler and Kramer's disagreement on the matter was never enough to break up the band, but it's a row that has yet to be settled.
Producer Jack Douglas, who worked with Aerosmith on Toys in the Attic, tells Produce Like A Pro's Warren Huart that both Tyler and Kramer have a legitimate argument. But he says the song wouldn't be what it is had it not been for the whole band.
"It's become a real thing with both of them," Douglas explains. "Steven sat down at the drums ... and went, in a very sh---y, sloppy way, did [imitates beat] boom gak, buh boom-boom gak... Okay. He did that. This was an idea for ... the only part of the song [Joe Perry] had that he brought to pre-production [imitates main riff]. That's the only thing he had."
While Douglas notes that Tyler's initial beat was technically the one in the song, he emphasized that Tyler's lousy drumming wasn't inspiring any new ideas or advancing the session.
After listening to his front man play on his kit for a while, Kramer sat down and added the hi-hat ghost note that precedes the downbeat. Douglas says Kramer's playing immediately brought Tyler's initial idea and the song to life.
"...[Kramer] adds all the finesse and jazz to it that makes Joe Perry [play his riff differently]," Douglas continued. "So really, who is it? It's both of them. In their heads, they can both take credit for it, but it really was the both of them creating it."
See video of the entire chat below or here.
Photo: Getty Images
Chat About Aerosmith Producer Tries To Settle Band Argument Over "Walk This Way" Beat