RUFUS DU SOL Talk One-Year Anniversary Of 'Solace,' Touring & Remix Album
By James Dinh
July 23, 2019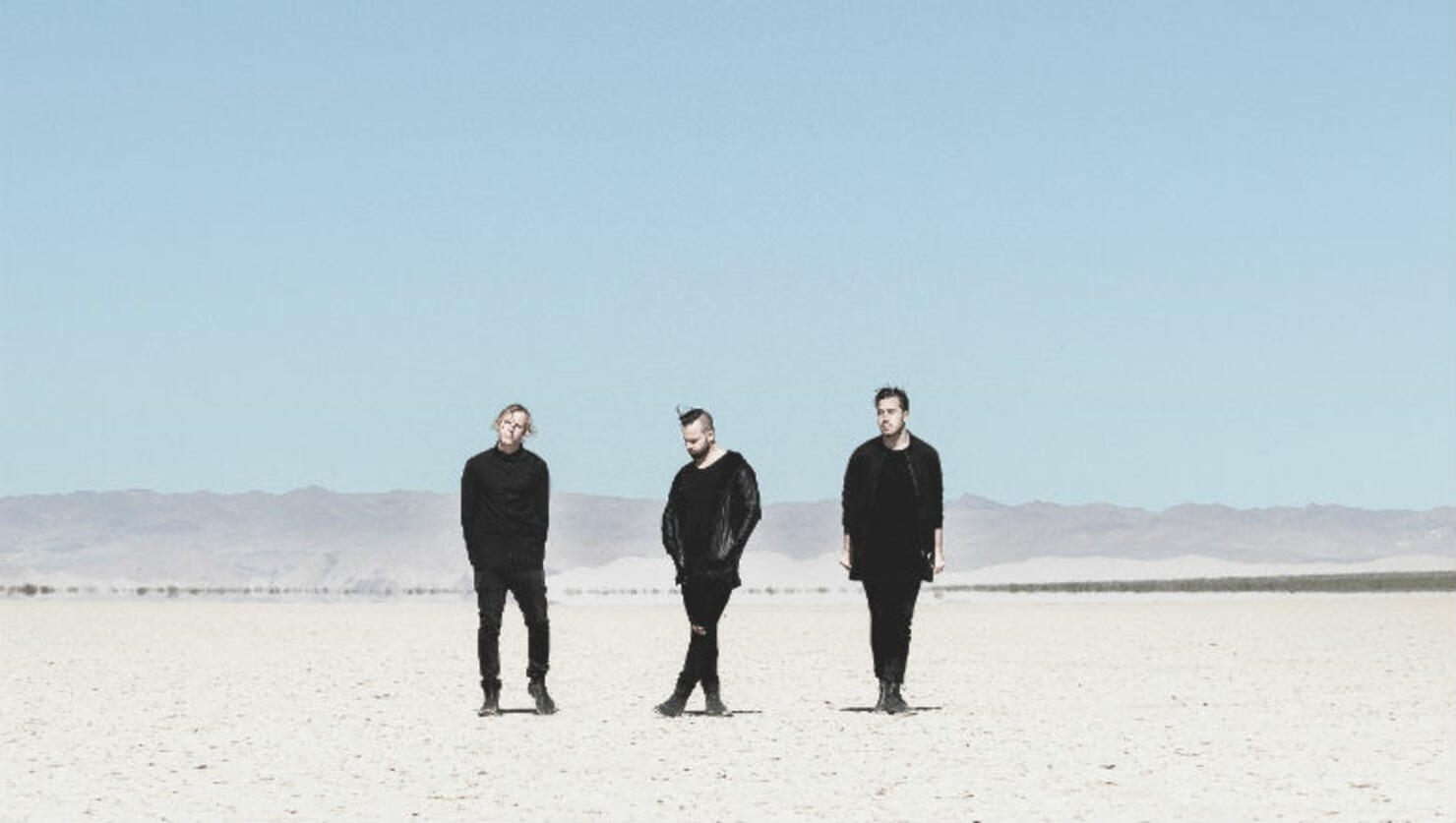 It's been almost a year since RÜFÜS DU SOL expanded their sonic palette with their third album, Solace, a nine track collection that dives deep into dark and ambient electro soundscapes. Full of versatility, the set hears the act remind us just why their talents extend across the board as instrumentalists, DJs and visionaries. Immediately after its release, the Australian electronic act, made up of Tyrone Lindqvist (lead vocals/guitar), Jon George (keys) and James Hunt (drums), hit the road for a non-stop trek to bring their new music to life on stage. Even with top festival billing at Coachella and Austin City Limits, the three-piece, who has been together for almost ten years, is still learning how to navigate personal and professional ends with tour responsibilities, while Tyrone is adapting to his latest chapter of life with parenthood.
Ahead of their trio of shows at the Brooklyn Mirage in mid-August, iHeartRadio spoke with the collective about bringing their stage show to the Big Apple, the new experiences that have arrived in the last year since Solace dropped and working on a remix album. Scroll on below to read our Q&A with the band.
We're approaching the one-year anniversary of Solace in October. What's one thing you didn't expect that fans took away from the project?
It's definitely taken us much farther around the world than any of our previous projects. We played our first shows in South America this year and it was wild to see so many people singing the words to the new tracks down there. We're making plans to go to a few new places for the first time ever.
Solace saw you all stray away from your usual work process and challenge yourselves with new collaborators in a space all together. What did you learn from that experience?
Friendship. Patience.
Jon, you previously mentioned that deadlines became a little pressuring when wrapping up the album. How did you navigate this part of the process? 
Coffee deliveries and shutting down the rest of my life. It's not something we like doing all the time but it has to be done in order to finish a project.
Touring can be incredibly taxing after being on the road for so long. How has this current tour been for you three?
It's been long. We love our jobs and have been refining how we tour over the past couple years, so that there is more time off and less shows in a row, etc. We make sure to check in on each other and have meals together.
James, you're set to take over Brooklyn Mirage with three shows in mid-August. Will each night be different? What kind of production will you bring to a venue like this?
It's outdoors, so you want to lean into that aspect of the space. We'll use a video wall, clear risers to improve sight lines and give the impression we are floating at times. We're bringing in a big rig that's for sure.
Solace has darker themes woven throughout it, from moving out to California and getting really lost - sometimes isolated - in the writing process. Has being back on tour and in new places inspired the theme or influence for the follow-up project? 
"Follow-up project" is an ambitious use of language at this point! We have been on tour pretty much since the week Solace was released, so we haven't looked that far ahead yet.
Tyrone, you and Mal recently welcomed a little one into your lives. How do you envision balancing your career and personal life?
It's going to be a challenge that we are excited about. Hard to say more or less at this point.
What's next for RÜFÜS DU SOL for the remainder of 2019?
We're working on a remix album for Solace with remixes from some of our favorite producers around the world. We're also working on a remix ourselves for one of our favorite bands who we have been fans of for a long time, so that's exciting. We'll continue to tour and then start setting up some home studios for ourselves to write new music.