Watch Ingrid Andress Sing With LBT's Karen Fairchild And Kimberly Schlapman
By Blake Taylor
July 24, 2019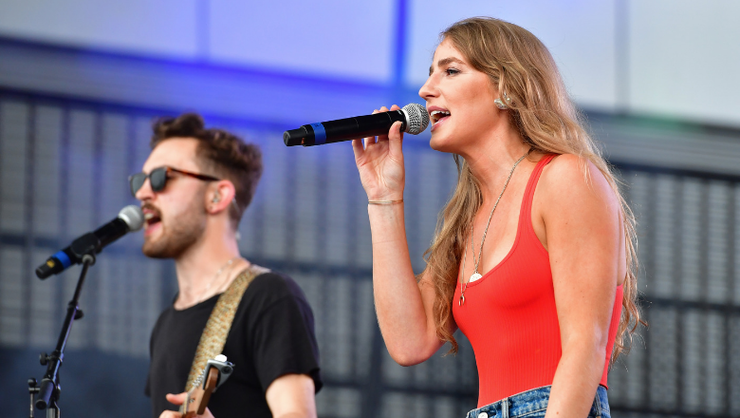 Country music newcomer, Ingrid Andress, is a name you should have on your radar. Recently, Andress along with Little Big Town's Kimberly Schlapman and Karen Fairchild, joined together to perform a beautiful stripped-down rendition of "More Hearts Than Mine."
This song, also Andress' debut single, was co-written by the rising star herself alongside Derek Southerland and Sam Ellis. "More Hearts Than Mine" reflects on the emotions felt during a breakup from differing parties including mothers and fathers. This track along with "Lady Like," and "Both" have generated quite the buzz, receiving attention from country music fans and even big country stars like Fairchild and Schlapman.
Fairchild shared with People that after hearing Andress sing "Lady Like" last year at a country showcase, she was immediately captivated. "I was so blown away just by the originality. You can just tell when someone's authentic and genuine, and she's a very, very gifted writer and has a beautiful voice."
In addition to "More Hearts Than Mine," the three talented ladies also sang Little Big Town's latest song, "The Daughters" and covered the Dixie Chicks' "Wide Open Spaces." When asked about her preparation for the performance with Schlapman and Fairchild, the young star admits, "Well, I practiced 'not fangirling' in the mirror," she continues, "then I rehearsed the crap out of every song we were doing."
Based on her delivery, it seems that her practice paid off. Little Big Town's, Fairchild is a a big fan who's confident that Andress' career will take off. "She knows who she is. She know what she wants to do. She's just the real deal. That's why we handpicked her. It's because we just really believe in her." With that kind of support and belief behind her, there's no telling where Andress will go.
You can watch the trio's breathtaking performance of "More Hearts Than Mine" below.