Cameron Boyce's Final Video Interview Released By Disney
By Hayden Brooks
July 24, 2019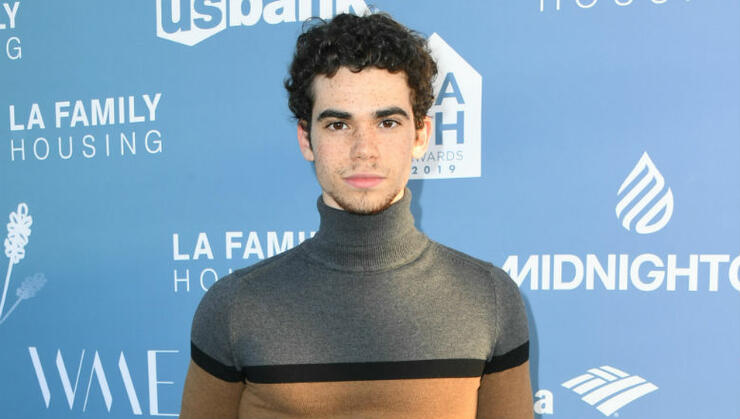 Cameron Boyce's final video interview has been released via Disney and it sees the late star open up about the universal concept in his upcoming film, Descendants 3, which is set to premiere next Friday on Disney Channel.
"Going back to the first movie, it was very much we have labels and we have designated places for these people that we have placed labels on," the star said in the clip, which first aired on Entertainment Tonight. "And very quickly learn that once you take a label off of someone and let them thrive in whatever environment that they're in, you can see the best come out of someone."
Boyce's interview, which was shot prior to his untimely death earlier this month, hears him elaborate on that message in the latest film from the franchise. "To be able to tell a story in which we say, 'It doesn't matter where you come from, it doesn't matter who you — we are going to accept you for who you are,' — that's when people really start to take in their surroundings and just go free, you know…There are a lot of people who are initially placed as bad. 'That person's bad, that person's this and that.' But it's the old adage: 'Don't judge a book by its cover.' Let someone really be who they are. And it's a cool thing that we tell," he continued.
In addition to Boyce's interview, the network also released a behind-the-scenes filming montage, as well as separate interviews with the castmates.
As you know, Boyce's died unexpectedly in his sleep at 2:35 PM on July 6. He was 20. In a death certificate obtained by TMZ, his official cause of death was deferred until the coroner completes the investigation on the case. He was cremated and his ashes were returned to his father. Additionally, the certificate listed that the actor worked in the entertainment business for 12 years and that the Forest Lawn in Los Angeles is the location of his funeral establishment. Boyce's family recently announced that they've launched a foundation to keep The Descendants star alive in the hearts of family and friends. The Cameron Boyce Foundation is set to "provide young people artistic and creative outlets as alternatives to violence and negativity and uses resources and philanthropy for positive change in the world."
Chat About Cameron Boyce's Final Video Interview Released By Disney