Meek Mill Launches Dream Chasers Label With Jay-Z's Roc Nation
By Lauren Crawford
July 24, 2019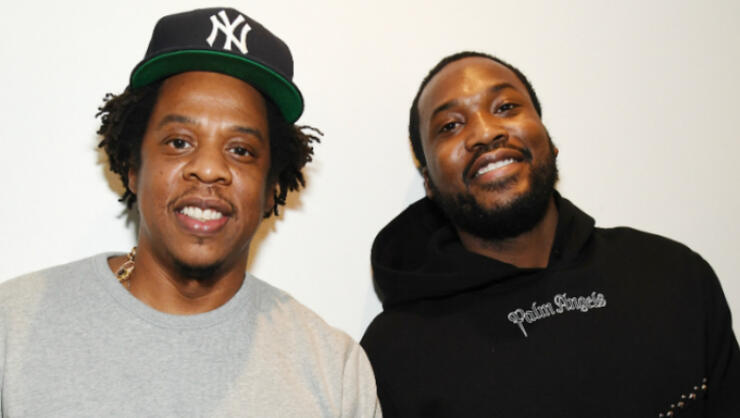 Jay-Z and Meek Mill are getting into business together.
On Wednesday (July 24), the hip-hop heavyweights made it official, announcing Meek's new label, Dream Chasers, and its joint venture with Jay's Roc Nation. "Meek will serve as the President of Dream Chasers, where he will oversee the label and build a staff that will spearhead talent acquisition and development, label operations, creative strategy, marketing and legal, among other positions," Roc Nation explained on Instagram.
Meek added, "Creating a record label has always been the next step in my journey as a businessman and I appreciate Roc Nation and JAY-Z's support on this new venture. I want to take my experiences in the music industry, use them to find young, hungry talent and open doors for the next generation of artists."
Speaking with reporters, Jay praised his new business partner, saying, per Variety: "Everything he has done leading up to this point shows he is ready to [lead] the next generation. We look at the big picture — this is way beyond signing artists and having hot records."
Meek created Dream Chasers in 2012. However, the Meek-operated label released only a handful of mixtapes, but it's those tapes that Meek said gave him "seven years of experience." He continued, "I think it's time for me to dive into the business. I'm 32 years old, I'm in a nice spot in the music business and I can help artists."
"Coming out of prison, I felt I had a responsibility to lead the culture as much as I can," Meek shared. "Jay-Z and others that came before me were like the snow plow that made it easier for me and others. I want to be the snow plow of the next generation, taking on those responsibilities, trying to move forward and push the culture forward."
Meek will continue to drop his own music via Maybach/Atlantic. In fact, Variety reports that he's planning to release some "new content" prior to the August 28 start of his "Legendary Nights Tour" with Future.
Photo: Getty Images