Cole Swindell Releases Steamy New Song 'All Nighter'
By Blake Taylor
July 25, 2019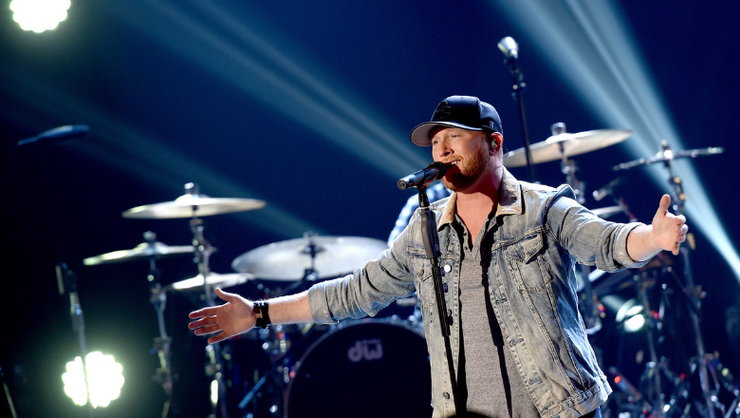 Cole Swindell just dropped the second song off his forthcoming EP, "Down Home Sessions V." The new track, titled "All Nighter," was written by Swindell himself alongside Ashley Gorley, Jon Nite, and Ross Copperman. This comes just about one month after Swindell's release of his feel-good song, "Drinkin' Hours." Differing from the upbeat, party vibes that "Drinkin' Hours" gave us, "All Nighter" is more of a slowed down love song, perfect for summertime.
In the main chorus of the song, Swindell sings, "Girl the way you move, you're setting me on fire. Stars are way up high, yeah, you take me higher. Leaning in real close, like baby, hold me tighter. It's looking like it's gon' be an all nighter."
This summer, you can catch the "Break Up In The End" singer out on the road for Luke Bryan's "Sunset Repeat Tour." The tour kicked off in May and runs all summer through the end of October. You can grab tickets to a show near you here. Additionally, Swindell also recently shared that he'll be joining Bryan for his "Farm Tour 2019" alongside, "Drunk Me" singer, Mitchell Tenpenny, The Peach Pickers and DJ Rock. A few of the shows are already sold out, so grab tickets while you still can right here.
In the meantime, stay tuned for more music every month from Swindell. He plans to release one song from the "Down Home Sessions V." EP every month for the next five months. By the time October rolls around, fans will have every song available for them to download.
Check out the music video to Cole Swindell's "All Nighter" below.
Chat About Cole Swindell Releases Steamy New Song 'All Nighter'