Chance The Rapper's Debut Album Features Literally EVERYONE: Listen
By Lauren Crawford
July 26, 2019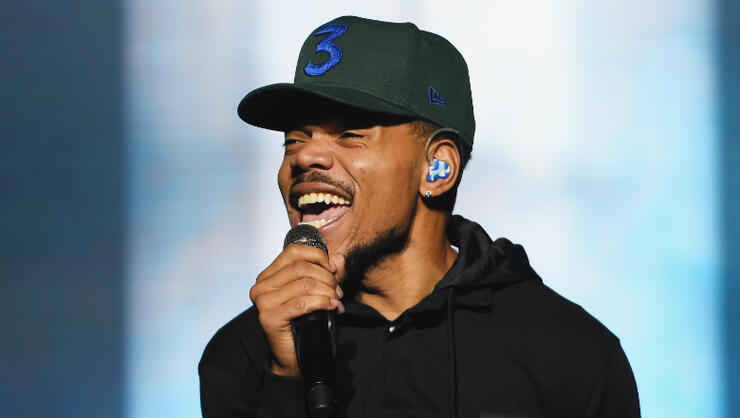 Chance the Rapper's debut album is finally here.
After a short delay on Friday (July 26), the three-time Grammy-winner rapper, known for his critically acclaimed mixtapes, gifted fans with The Big Day — a 22-track album featuring some of the biggest names in music, across genres.
John Legend sings on the first track, "All Day Long," followed by Death Cab for Cutie's Benjamin Gibbard contribution on the second track, "Do You Remember?" which also has contributions from Bon Iver's Justin Vernon and Francis & The Lights. Other guests on the album include Shawn Mendes ("Ballin Flossin"), Gucci Mane ("Big Fish"), MadeinTYO and DaBaby ("Hot Shower"), Megan Thee Stallion ("Handsome"), Nicki Minaj, who is on two tracks ("Zanies and Fools" and "Slide Around"), and more.
"The whole album has been inspired by the day that I got married and how I was dancing that day," Chance explained in a recent interview. "It was the hardest I ever danced in my life and I'm a great longtime dancer. Everything in it is all the different styles of music that make me want to dance and remind me of that day and remind me of that night and all those people that were there [...] I've been waiting to make an album for a long time." He added, "Just making two songs a day. And trying to have fun. But at the same time, I understand that it's going to be more. More songs. More flexes. More dancing. Just more."
The Big Day follows Chance's 2016 mixtape, Coloring Book, which won Best Rap Album at the 2017 Grammys.
Earlier this year, Chance opened up about what separates his debut album from his previous mixtapes — 2012's 10 Day, 2013's Acid Rap, 2015's Free, and Coloring Book. "This my 1st album so its really good," he wrote on Twitter in a series of tweets back in February. "I got real famous so I gotta lotta eyes on me that wasn't fans of me they just fans of whats popular. My first album is for my fans. I'll always be immensely proud of what I did with Coloring Book. Same Drugs, Summer Friends and Juke Jam are some the realest songs I've ever written so u dont have to defend Coloring Book to me. It happened, it made history but I did it already. The album wont be acid rap either."
Chance is performing at this year's iHeartRadio Music Festival in Las Vegas in September alongside a lineup of superstar artists. Fans across the country can tune in and watch an exclusive live stream of the show via The CW App and CWTV.com. Then, on October 2nd and 3rd, relive all of the epic performances from the weekend during a televised special on The CW Network at 8pm ET/PT. And leading up to the official television special, The CW will also air an hour-long Best Of Special on Sunday, September 29th at 8 p.m. ET/PT.
Photo: Getty Images
Chat About Chance The Rapper's Debut Album Features Literally EVERYONE: Listen