Surprise! Kendrick Lamar & Fiancée Whitney Alford Welcome First Child
By Lauren Crawford
July 26, 2019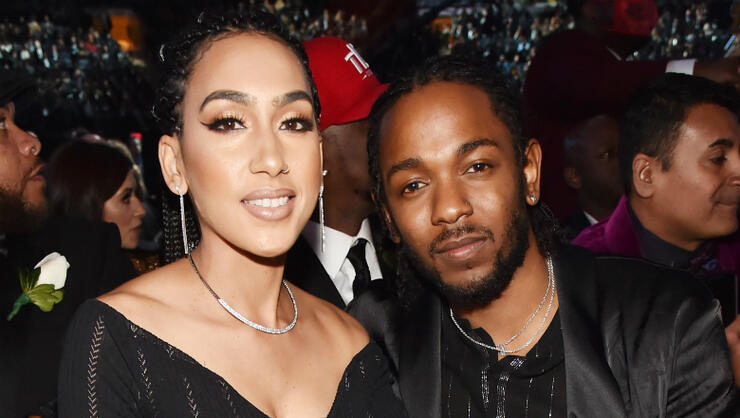 Kendrick Lamar is a dad!
The 32-year-old rapper and his fiancee Whitney Alford welcomed their first child, a baby girl, on Friday (July 26), Us Weekly reports.
As fans know, the notoriously private Grammy winner didn't even announce that Whitney, his high school sweetheart, was expecting. The surprise arrival of their daughter/ lack of announcement is fitting for Kendrick, who rarely speaks about his private life.
In January 2015, he briefly opened up about Whitney, saying, "I wouldn't even call her my girl. That's my best friend. I don't even like the term that society has put in the world as far as being a companion — she's somebody I can tell my fears to."
Months later, Kendrick confirmed that he and the 33-year-old makeup artist were engaged. "Yeah, yeah, definitely," he admitted on The Breakfast Club. "I'm loyal to the soil." Kendrick added, "At the end of the day, you want to always, always have real people around you, period. Whether it's male or female, and everybody that's been around me, they've been around since day one. [...] I always show respect when respect has been given, and people that have been by your side, you're supposed to honor that."
Congratulations to the happy couple!
Photo: Getty Images
Chat About Surprise! Kendrick Lamar & Fiancée Whitney Alford Welcome First Child