Lifetime Unveils First Trailer For Patsy Cline & Loretta Lynn Biopic
By Paris Close
July 28, 2019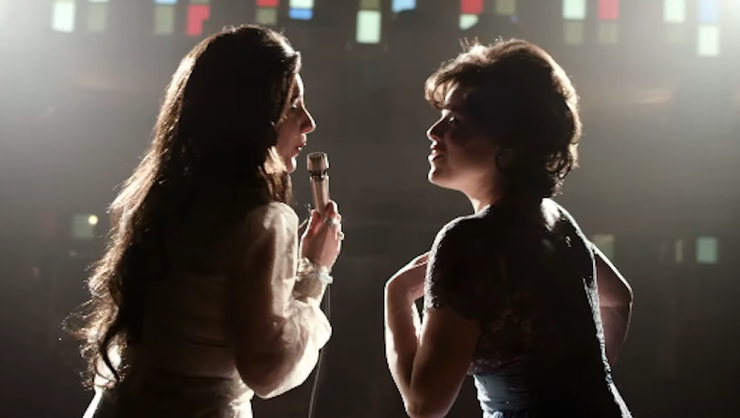 The trailer for Lifetime's latest biopic, Patsy & Loretta, draws back the curtains of the friendship of two country icons.
Earlier this week, the network dropped the very first preview for the Patsy Cline and Loretta Lynn-inspired drama. In the two-and-a-half minute teaser, Cline (played by The Good Wife's Megan Hilty) charms her honky tonk crowd in her glimmering red cowgirl ensemble while delivering a rollicking performance of her song "Come On In." Determined to be a hit-making musician and future mother, Cline warns to her husband, Charlie, as they share a romantic dance: "There are two things I want in this world: babies and hit records. Now you got a problem with either, I just assume you let me be."
Meanwhile in the Callie Khourie and Neil Meron-directed project, Lynn (portrayed by The Waitress' Jessie Mueller) finds herself performing in small-room, bar settings and under the control of her possessive boyfriend, who refuses to allow record execs to "sparkle" and glam up her image in an effort to help her rise to country stardom.
As the story goes, Lynn and Cline developed an endearing friendship following the near-fatal head-on collision Cline experienced in 1961. Together, the pair often leaned on each other for support, and Patsy & Loretta does well to capture the nature of their heartwarming companionship up until Cline's tragic and untimely death in 1963.
Patsy & Loretta premieres on Lifetime on October 19. Watch the first preview below.
Chat About Lifetime Unveils First Trailer For Patsy Cline & Loretta Lynn Biopic