Kim Kardashian Teams Up With Oxygen For Prison Reform Doc: See The Photos
By Hayden Brooks
July 29, 2019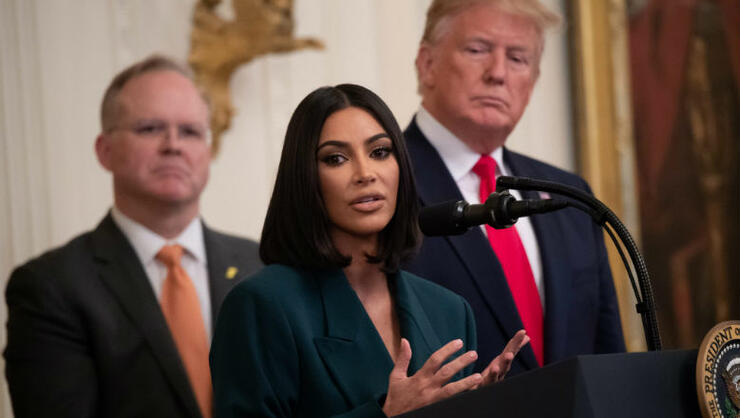 If you're interested in learning more about Kim Kardashian West's prison reform advocacy, the E! reality star's efforts will be put on display in a new Oxygen documentary called Kim Kardashian West: The Justice Project.
On Saturday (July 27), Kardashian took to Twitter to share news about the upcoming project alongside photos from her visit to the Washington DC Department of Corrections. "We filmed a documentary I am working on that will be out on @oxygen and I hope you will learn about the justice system the way I have," the 38-year-old star wrote. The TV special will follow her visit to the correctional treatment facility, where she learned about the Georgetown Prison Scholars program, which offers higher education courses to people are incarcerated. Oxygen shared a behind-the-scenes look at her visit, while author and activist Halim Flowers, who was released from the DC Jail in March after taking the courses, called Kardashian a "sister" on Instagram. He also revealed that he was teaching the future lawyer about "the atrocity of putting children in cages for life sentences and the power of higher education programs in jails and prisons."
Otherwise, Oxygen has remained mostly mum on the upcoming TV special, but the network did reveal that the two-hour special will provide "an exclusive, never-before-seen look inside her mission to tackle one of America's most controversial subjects." Stay tuned for a release date for Kim Kardashian West: The Justice Project.
Kardashian's recent work on improving the US criminal justice system has garnered plenty of media attention, particularly her initial agenda to help Alice Marie Johnson receive a presidential pardon from serving a lifetime sentence for a first-time nonviolent drug offense in 2018.
We filmed a documentary I am working on that will be out on @oxygen and I hope you will learn about the justice system the way I have.

— Kim Kardashian West (@KimKardashian) July 27, 2019
Last week I was so moved by Dr. Marc Howard, a Georgetown professor who teaches a course inside of a DC prison where men & women can get Georgetown credits. I met so many amazing people that can't wait to share their stories with you. pic.twitter.com/xxmnIPFy7j

— Kim Kardashian West (@KimKardashian) July 27, 2019
Chat About Kim Kardashian Teams Up With Oxygen For Prison Reform Doc: See The Photos