Nicki Minaj & Megan Thee Stallion Bond On IG Live, Talk New Music & More
By Peyton Blakemore
July 29, 2019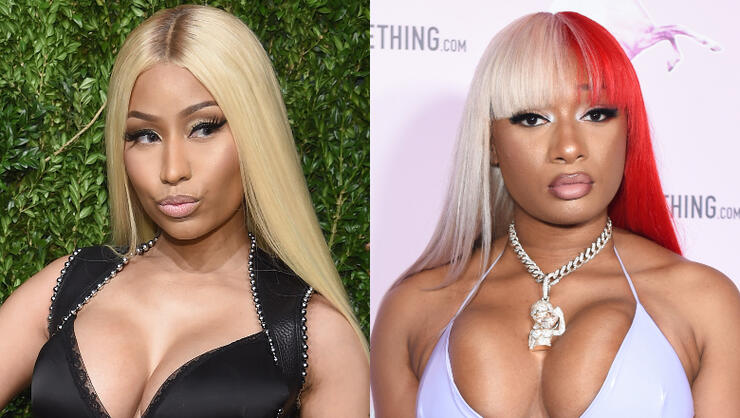 When the Queen of The Hotties meets The Queen you know a good time will ensue.
Megan Thee Stallion and Nicki Minaj gifted fans an Instagram Live session to end all Instagram Live Sessions after the "Cash Sh*t" rapper asked to join Nicki's Live session over the weekend. The MCs talked about everything from collaborating to hanging out in Los Angeles to Meg's upcoming album — they even gassed each other up during a mid-Live twerk session.
"We are gagging right now. We are dead," Meg told Nicki after she hopped on the Live, praising the "Megatron" rapper who she said she grew up listening to. "Yes, we love you. Oh my God! Since motherfu**in' 2008 when I was in eighth grade and I could listen to rap music on my own." Meg later added, "Stop playing with Nicki Minaj like she ain't the motherfu**in' GOAT!"
"Thank you. I appreciate it so much," Nicki responded.
Meg also discussed her next album, saying she just got back in the studio and would love to work with Nicki. "We need the Queen," she said.
The "Wobble Up" rapper then shared some advice to Meg. "Don't overthink it and don't beat yourself up," Nicki said. "All the times when I be working on albums, I be stressing myself the f**k out and then when I just kind of let my hair down, so to speak, for like freestyles and stuff, that's what they love."
The two ended their Live session making plans to meet up in Los Angeles. "Don't run from me, friend," Meg, said. Nicki then responded, "I really, really appreciate you [...] That means a lot to me, all the nice and all the sweet things that you ever said. It means the world to me."
**WARNING: VIDEO CONTAINS EXPLICIT LANGUAGE **
Chat About Nicki Minaj & Megan Thee Stallion Bond On IG Live, Talk New Music & More