Ariana Grande Gets Major Revenge On Love Rivals In New 'Boyfriend' Video
By James Dinh
August 2, 2019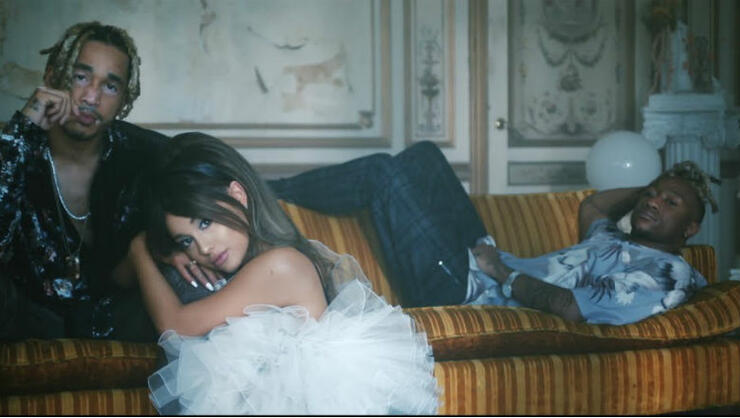 Just as she teased, Ariana Grande dropped her Social House collaboration "Boyfriend" on Friday (August 2) alongside a quirky rom-com-inspired music video, but the visual has a twist.
In the Hannah Lux Davis-directed video, the 26-year-old dreams up several violent (but comedic) scenarios surrounding her ex-beaus played by Michael Foster and Charles Anderson of the Los Angeles-based duo. Whether she's tackling her former flame's new woman at a party or shooting a bow and arrow through another admirer's hand, Grande's revenge sees no limit. Still, she learns that two can play this game as the clip unfolds over the course of four minutes. Grande's "nostalgic bop" follows previous collaborations from 2019, including Victoria Monét ("MONOPOLY") and 2 Chainz ("Rule the World").
"You ain't my boyfriend/ And I ain't your girlfriend/ But u don't want me to see nobody else/ And I don't want you to see nobody," she croons on the hook, while Social House takes over the follow-up verses.
After its release, the pop titan revealed some of the meaning behind the R&B charged-one off single via Twitter. "I feel like this song captures a common theme in the lives of so many people I know," Grande shared. "People want to feel love but don't want to define their relationship and have trouble fully committing or trusting or allowing themselves to fully love someone, even tho they want to."
"We wanted to make something uplifting that captures that feeling of being afraid to take the leap and trust, being afraid of being hurt or feeling like you won't be enough for that person ... but also how it feels to have a crippling crush on someone," she continued.
Photo: YouTube/ArianaGrandeVevo
Chat About Ariana Grande Gets Major Revenge On Love Rivals In New 'Boyfriend' Video