Hostess's New Mystery Moonberry Cream Filling Is Out-Of-This-World
By Emily Lee
August 2, 2019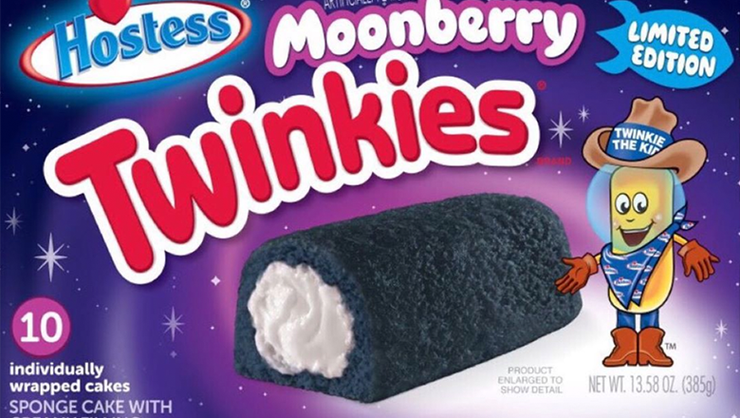 This Twinkie flavor is out-of-this world. Hostess revealed the intergalactic new flavor to People and you're going to want to get your hands on this limited-edition version of the iconic treat ASAP. Though this new Twinkie is shaped like the original, there's actually a lot of key differences. Here's everything you need to know about Moonberry Twinkies.
The outer shell of the Twinkie is a dark blue color instead of the original vanilla. A Hostess representative told People the dark blue sponge cake is "supposed to mimic the night sky." The cream is where the "moonberry" flavor comes into play. Moonberry is reportedly tastes "smooth, sweet and just a little bit fruity" as it combines multiple berry flavors into one.
After popular foodie Instagram account @JunkFoodMom shared the news, Twinkie fans flooded the post with comments about how excited they are to try these out. "I'll certainly be at Walmart next week picking up a few boxes as I do my weekly routine pickup for HoneyBun Cereal," one person wrote. "I can't wait to get my hands on a box of these Twinkies!" another added.
Twinkie fans will be able to grab a box of Moonberry Twinkies at their local Walmart starting next week. Packs of 10 Twinkies retail for $2.97 and will be shelved exclusively at Walmart for a limited-time only. Make sure you try these while you can.
Photo: JunkFoodMom
Chat About Hostess's New Mystery Moonberry Cream Filling Is Out-Of-This-World