Snoop Dogg Thinks Tupac Would Be 'All I Am And Then Some' If He Was Alive
By Katrina Nattress
August 2, 2019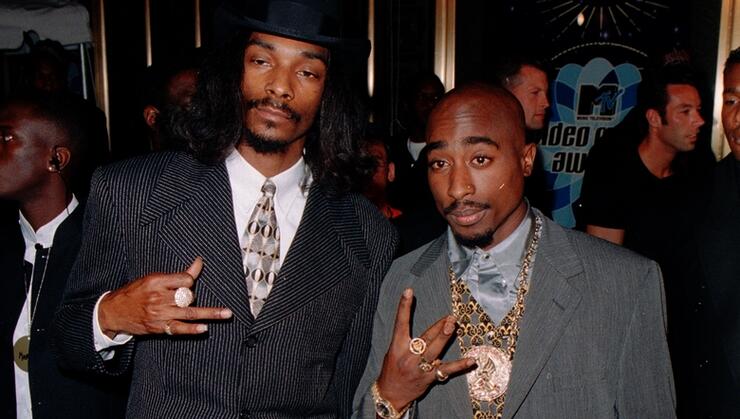 Death Row will forever be known as one of hip-hop's most lauded dynasties, boasting talent like Dr. Dre, Tupac Shakur, Kurupt, and Daz Dillinger, but according to West-Coast rapper Glasses Malone, no one shines a light in Snoop Dogg.
During a recent visit to The Breakfast Club, the emcee made his case despite Charlamagne tha God's protests, declaring Pac wouldn't be perceived as he is today if it wasn't for Snoop. "From 1993 to 1995, there was no bigger rapper than Snoop Dogg," says Malone. "Snoop is rap music. Snoop is the greatest rapper of all time. Not if he the best, he the greatest. Snoop can go to any mall in America and they gon' know him. A white lady, 80, or a lil' kid, 8, gon' know Snoop Dogg."
The radio personality continued the discourse by sharing a clip of the interview on Instagram. The Doggfather quickly made his thoughts clear in the comments.
"I'm the reason why pac was on death row," he began. "First real free agent signing in rap I wasn't afraid or jealous I wanted cuzz on our team and suge made it happen and on my instructions."
"Daz and the whole. D. P. G. Death row clique provided Tupac to the sound of his greatest album ever so get ya facts right," he continued. "If pac was alive he would be all of what I am and then some he was a beast in the studio and a real friend who taught us a better work ethic and how to stay on it like we want it so. I am and always will be apart of Tupac and Tupac is apart of me. A brotherhood none of y'all can break. @Glasseslockeep pushing ya line. Ain't no I in team."
Check out the Instagram post below.
Chat About Snoop Dogg Thinks Tupac Would Be 'All I Am And Then Some' If He Was Alive