Someone Reimagined Billie Eilish's 'Bad Guy' In The Style Of Green Day
By Katrina Nattress
August 4, 2019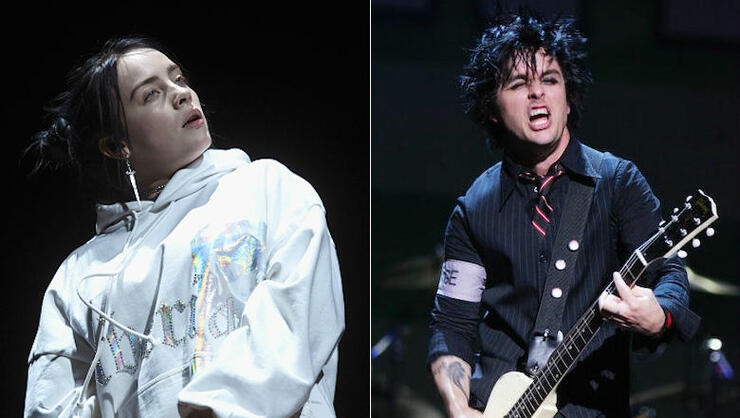 Billie Eilish's hit single "Bad Guy" is a great example of rock's current landscape — it's gritty but electronic; pop-leaning but dark — however, one YouTuber wanted to see what it would sound like if it was written in a simpler time, where guitars reigned supreme. Nathan Sharp shared a version of the song on his YouTube channel, reimagined in the style of Dookie-era Green Day. And, quite frankly, it's astonishingly accurate.
Sharp alters his voice to have that Billie Joe Armstrong drawl, while frenetic guitars lead the charge. He even includes those signature Green Day vocal flares. But it's the end of the song where he really nails it — changing the tempo to a racing pace that gives the original's sultry outro a whole new feel.
Listen to "Bad Guy" reimagined in the style of Green Day below.
Sharp isn't the first person to reimagine Eilish's hit as a pop punk anthem. There's also this glorious rendition of "Bad Guy" in the style of Take Off Your Pants And Jacket-era blink-182.
Billie Eilish is performing at this year's Daytime Stage at the iHeartRadio Music Festival in Las Vegas on September 21st alongside a lineup of incredible rising stars. A lineup of superstars are also set to perform on the main stage at T-Mobile Arena throughout the weekend, and fans across the country can tune in and watch an exclusive live stream of the show via The CW App and CWTV.com. Then, on October 2nd and 3rd, relive all of the epic performances from the weekend during a televised special on The CW Network at 8pm ET/PT. And leading up to the official television special, The CW will also air an hour-long Best Of Special on Sunday, September 29th at 8 p.m. ET/PT.
Photo: Getty Images
Chat About Someone Reimagined Billie Eilish's 'Bad Guy' In The Style Of Green Day