Carrie Underwood Brings Out Joan Jett For Country-Rock Medley At CMA Fest
By Regina Star
August 5, 2019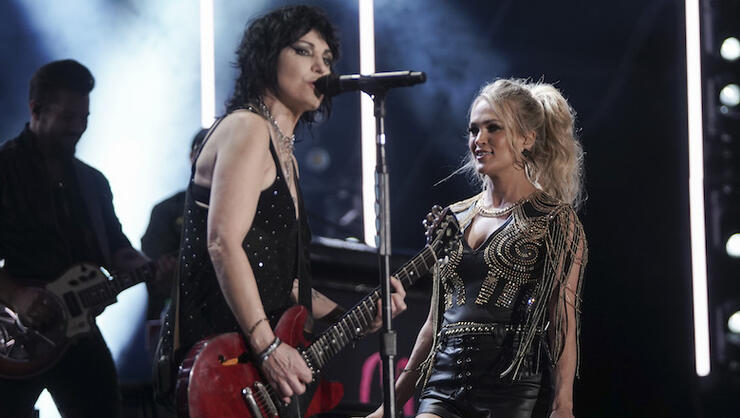 Country and rock collided at Nashville's CMA Fest!
Fans got to relive Carrie Underwood surprising the festival's crowd during Sunday night's (August 4) broadcast on ABC, which saw the American Idol winner bring out Joan Jett to deliver an unforgettable country-rock performance that included a medley of songs from Joan Jett & the Blackhearts. Underwood and Jett, whose CMA Fest show was originally taped in June, played a number of classics from Jett's canon including "I Hate Myself for Loving You," "Crimson and Clover," "I Love Rock & Roll," and "Bad Reputation."
See a few clips from the show below.
"Dreams come true at #CMAFest ! This was mine. Just to be in the same room as @joanjett is really cool . . . to share the stage with her is indescribable!" Underwood said of sharing the same stage as the rock icon on Instagram at the time. "She truly is a legend and is probably the coolest person I have ever met. I was so proud to show her how amazing our CMA Fest crowd is! What a night!"
As you'll recall, the 60-year-old Rock and Roll Hall of Famer and the 36-year-old country musician belted their hearts out at Nissan Stadium in Music City a few months ago. Though, as Underwood remembered it, Jett was a tad nervous about performing for a country crowd.
"You can tell that she really wants to do a great job in this crowd," Underwood told reporters backstage ahead of the show. "I don't want to say … it's not like nervousness, it's just wanting to do well, and then she's like, 'Because I know this isn't my world and I just hope they know the songs.'"
Photo: Getty Images
Chat About Carrie Underwood Brings Out Joan Jett For Country-Rock Medley At CMA Fest