Rihanna Calls Out Trump After El Paso & Dayton Mass Shootings
By Peyton Blakemore
August 5, 2019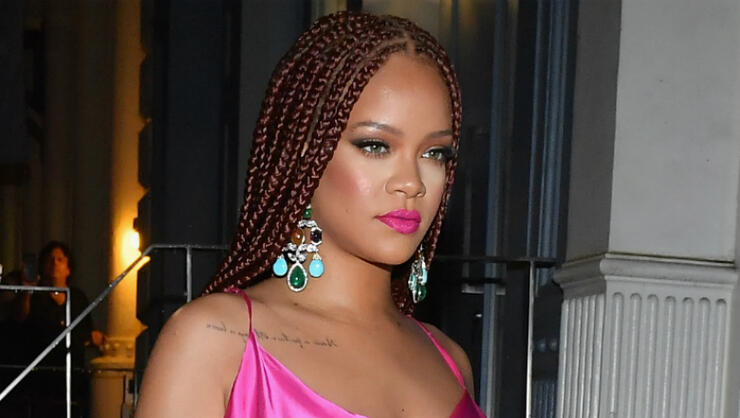 Rihanna, like millions of Americans, is not happy with Donald Trump's response to this weekend's multiple mass shootings.
Following the horrific acts of terror in El Paso, Texas and Dayton, Ohio — which were both carried out by white males in their early twenties who used assault rifles to carry out the attacks — the Anti singer took to Instagram to call out the President for his initial response to the senseless tragedies. "Um... Donald, you spelt 'terrorism' wrong!" Rihanna captioned a screenshot of Trump's Twitter statement on Sunday (August 4). "Your country had 2 terrorist attacks back to back, hours apart leaving almost 30 innocent people dead. This, just days after yet another terrorist attack in California, where a terrorist was able to LEGALLY purchase an assault rifle (AK-47) in Vegas, then drive hours to a food festival in Cali leaving 6 more people dead including a young infant baby boy!"
"Imagine a world where it's easier to get an AK-47 than a VISA!" she continued. "Imagine a world where they build a wall to keep terrorists IN AMERICA!!! My prayers and deepest condolences to the families and loved ones of all the victims and the communities affected and traumatized, from Texas, California, and Ohio! I'm so sorry for your loss! Nobody deserves to die like this! NOBODY!"
Trump gave a speech on Monday (August 5), addressing both shootings where he incorrectly referred to Toledo when the Ohio shooting occurred in Dayton and cited "gruesome and grizzly" video games as a contributing factor to the attacks that left at least 29 people dead. "The shooter in El Paso posted a manifesto online, consumed by racist hate," he said in remarks from the White House, per CNN. "In one voice, our nation must condemn racism, bigotry and white supremacy."
"These sinister ideologies must be defeated. Hate has no place in America. Hatred warps the mind, ravages the heart and devours the soul," he continued.
Photo: Getty Images
Chat About Rihanna Calls Out Trump After El Paso & Dayton Mass Shootings