Gigi Hadid, Tyler Cameron Go On Second Date & Hannah Brown Has 'Feelings'
By Emily Lee
August 6, 2019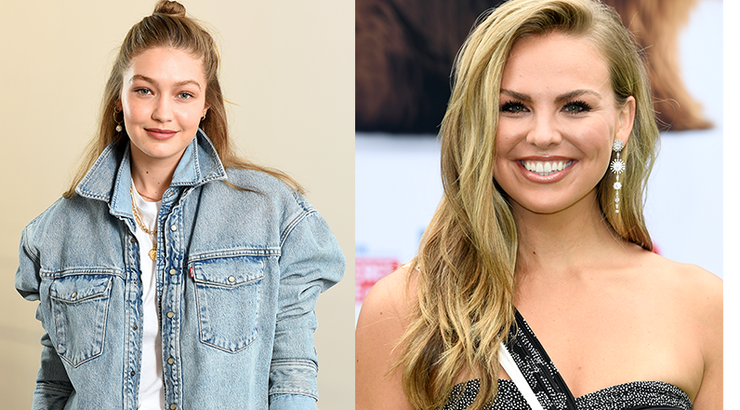 It looks like Gigi Hadid and Tyler Cameron really hit it off on their SoHo House date the other night. The pair were reportedly spotted on another date on Monday (Aug 5) at Frames Bowling Lounge in New York City. Bachelor Nation isn't the only one has some, um, feelings about this pairing. The Bachelorette herself, Hannah Brown, is keeping her eye on this potential new romance. Here's everything you need to know about this IRL love triangle.
"Gigi is definitely interested in Tyler," a source told E! News. "They met for drinks last night at Soho and they got along really well. It was very casual but they were laughing and had a very engaged conversation. They are both taking things slow but have both made it clear they are interested in each other." Another insider spilled about Gigi and Tyler's second date to Entertainment Tonight, telling the outlet they were "very flirty and kept laughing" and that they "were constantly talking and romantically touching one another and just having fun."
During an appearance at ABC's Television Critics Association press tour, Hannah spoke about Tyler and Gigi's date, which took place just days after Hannah and Tyler spent the night together. "I have feelings, but I'm also single and he's single and I wanna keep my options open and he can keep his options open," the Bachelorette told ET. "We definitely hung out and talked about everything and... I know nobody will believe me [about] just hanging out and actually talking but it was good to be able to catch up. We had a lot to talk about."
"We are trying to figure out how we feel," she continued. As for Tyler potentially being the next Bachelor? Hannah commented on that, as well. "I don't know where he's at with wanting to be the Bachelor. I think he has his options open as well, and if the Bachelor is one of those options, then I guess I'll support him if that's what he wants to do."
Despite her recent date with Tyler, Hannah confirmed they're not together. "I am single, and people slide into my DMs if they want to, but I just got out of an engagement and dating 30 men. [Dating] is not really not my sole focus right now," she explained. "I'm working on Hannah and loving Hannah, and so you know, if that means going to have a drink again with somebody else, then I'm all for it." 
As all Bachelor/Bachelorette fans know, nothing happens in Bachelor Nation without host Chris Harrison knowing about it. He spoke with ET about the Hannah/Tyler/Gigi love triangle, saying: "Tyler is bouncing around from girl to girl and loving the life and enjoying the limelight."
Photo: Getty