Miranda Lambert Quips Back At Troll Who Thinks Her Marriage Won't Last
By Paris Close
August 6, 2019
Say what you want, but Miranda Lambert and Brendan McLoughlin's marriage is the real deal.
In a set of videos shared to Instagram on Sunday (August 4), the country superstar is just minding her own business during an outdoor cookout as her sweetheart is hard at work at the stove frying buttermilk-fried chicken before one of Lambert's detractors attempted to ruin the moment. "'I'm sweet tea sippin' on the front porch sittin' while my hubby fries chicken and I'm pickin' these straaangs,'" she captioned the clip, quoting lyrics from her song "Locomotive."
Although most fans delighted in the lovebirds preparing a meal together, one particular fan, looking to spoil the fun, commented, "It won't last," alluding to Lambert and McLoughlin's marriage. But if you thought it would just end there, you're sorely mistaken.
The 35-year-old artist had a finger-lickin' good comeback for the hater. "Sure won't!" she quipped, insisting the comment was about their Southern cuisine. "I'm gonna eat every piece of it! Can't waste chicken!"
Good one, Miranda!
Despite their critics, the couple has been going strong ever since they secretly tied the knot back this January. As you know, the twosome didn't break the news of their union until after Valentine's Day 2019, and since then, they've become a lot more transparent and open to letting fans inside their relationship. Just last week, for instance, the "Tin Man" star posted a picture gallery on Instagram of the newlyweds vacationing on Lake Tahoe with friends Gwen Sebastian and Melissa Hughes.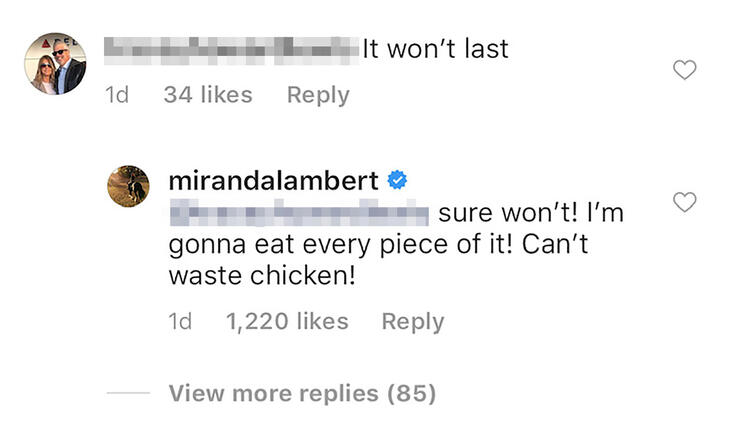 Chat About Miranda Lambert Quips Back At Troll Who Thinks Her Marriage Won't Last